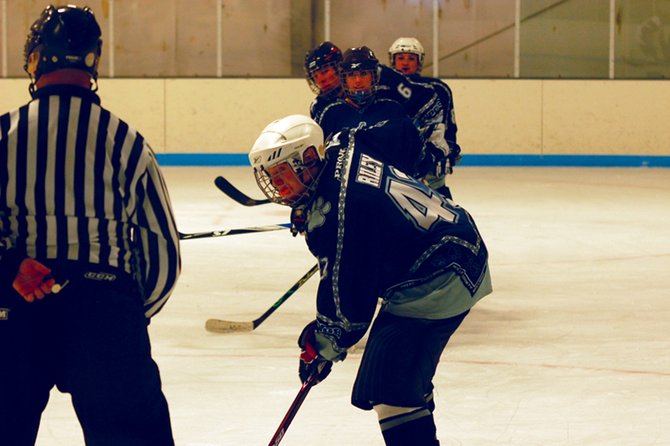 Moffat County High School freshman Thayne Riley prepares for a face-off near his own goal during the Moffat County Bulldogs club hockey team's Saturday game against Grand Valley. The team went 2-1 over the weekend, losing a game against Glenwood Springs and defeating Grand Valley twice. The Bulldogs will move on to the Frozen Four tournament to end the season.
Stories this photo appears in:

Playing a sport that involves constant physical contact, Dylan Villa is used to getting his fair share of hits on the ice. A hockey stick to his Adam's apple Saturday night resulted in the Moffat County High School sophomore being led out of the rink bent over a bucket in the second period. Though his neck showed a glaring reminder of his injury, he was back in the game minutes later, ready to finish the first of two victories that would drive his team to the postseason. The Moffat County Bulldogs club hockey team finished its regular season over the weekend with a pair of victories against the Grand Valley Mavericks.
February 11, 2012 midnight