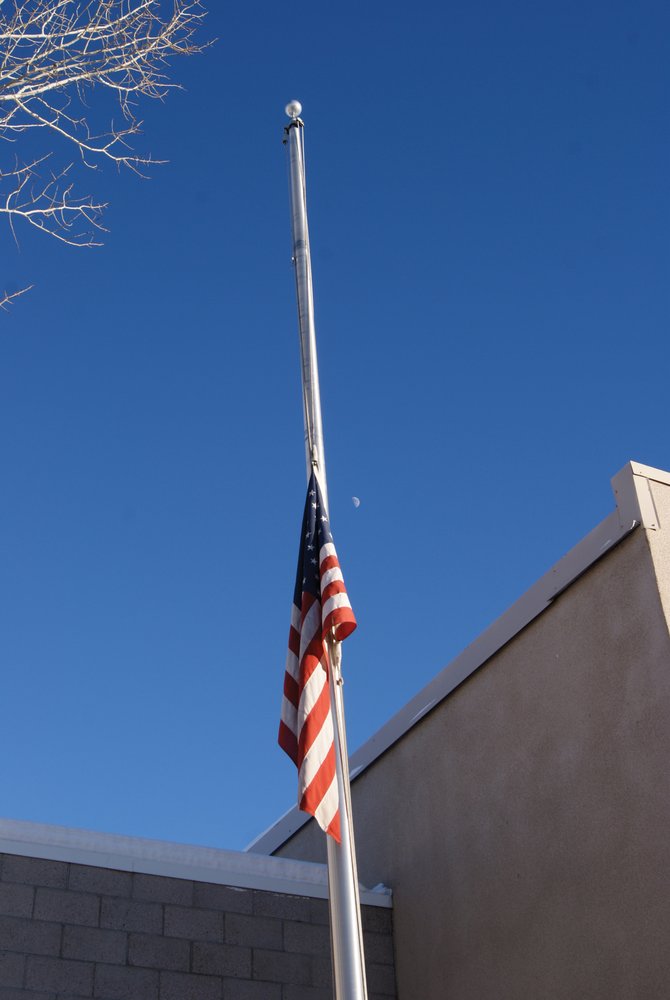 The flag at the Craig Fire Department remains at half mast in honor of the 26 who lost their lives at Sandy Hook Elementary School in Newtown, Conn. Regardless of geographical distance, the tragedy sent shock waves and raised questions about the safety of children throughout the country, including in Moffat County. Moffat County School District administrators this week hosted two community meetings to let area parents ask questions and address concerns as well as to inform them of the district's safety protocols.
Stories this photo appears in:

The unthinkable became a nightmarish reality last week in Newtown, Connecticut, when a gunman entered Sandy Hook Elementary School, releasing fire that resulted in 26 deaths of students and staff. Taking the lives of 20 innocent children and six of those charged with their safety, the gunman also took the peace of mind, safety and security that parents across the nation had in sending their child off to school each day. As the nation deals with the tragedy, Craig is not exempt from coping and attempting to rebuild their trust that its students will be safe at school. In an attempt to alleviate parents concerns and answer questions, Moffat County School District hosted two community meetings this week, one at Moffat County High School and one at Sandrock Elementary School. Addressing those in attendance at Sandrock Wednesday night, Moffat County School District superintendent Dr. Joe Petrone, told parents the meetings were held to give parents a sense of what the district had in place for the security and safety of the children.
December 20, 2012 11:37 p.m.