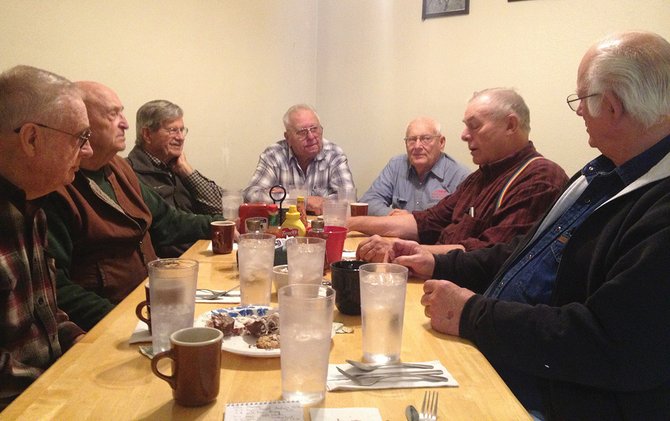 A group of Craig men listen to a story from Lou Wyman (middle-right) over coffee and tea in the back room at the Coolwater Grille. The group has shared stories over coffee for years, first at the Golden Cavvy and now at Coolwater. Starting front-left: Dean Visintainer, Bill Rippy, Neil McCandless, Paul Kawcak, Al Shepherd, Wyman and Fred Shaffer are all regulars. Dean Jent is another common face not pictured here.
Stories this photo appears in:

Head to the Coolwater Grille on weekday mornings and you'll see a typical grouping of citizens of Craig strewn throughout the restaurant enjoying coffee, breakfast and company. Head into the café's back room and you'll see a more unique grouping, carrying on a tradition of friendship that goes back years and generations in Craig. A group of Craig men ranging anywhere from a few to as many as 10 gathers for coffee, tea and a good time. The clique of some of Craig's (and Moffat County's) long-living citizens get together and no topic is off limits.
December 19, 2012 1:01 a.m.