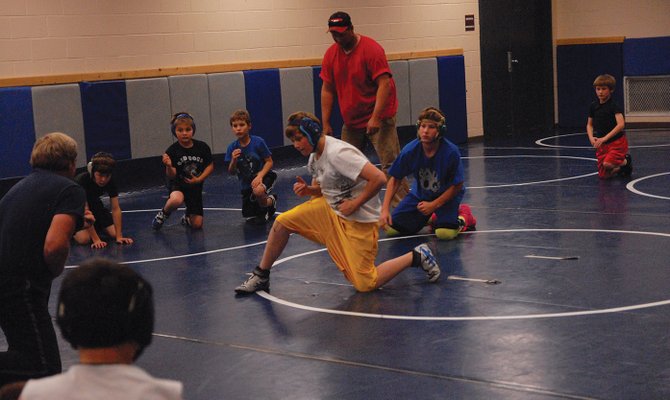 Bad Dogs wrestlers work on moves and technique during a team practice earlier this season. The youth wrestling team composed of boys ages 4-14 is hosting the Bad Dogs Winter Rumble starting 10 a.m. Saturday at Moffat County High School.
Stories this photo appears in:

The Bad Dogs youth wrestling team is hosting its first of two major tournaments Saturday at Moffat County High School. The Bad Dogs Winter Rumble will host wrestlers from across the Western Slope as well as other parts of Colorado, Utah and Wyoming. Bad Dogs strength coach Jeff Pleasant said they are expecting over 200 participants to be in attendance at the tournament taking place in the MCHS gym. Pleasant said there will be six mats at the tournament, starting at 10 a.m., with wrestling for children ages 4 – 14. This tournament, while not as big as the Bad Dogs' spring tournament, is still an important one where Craig residents can see what the team is all about and check out some of the region's best youth wrestling. "We'll have out of town teams from all over the Western Slope," Pleasant said. "It's kind of a warm-up and preview to what will happen in the spring. We're going to see teams that have never been here before."
December 15, 2012 12:27 a.m.