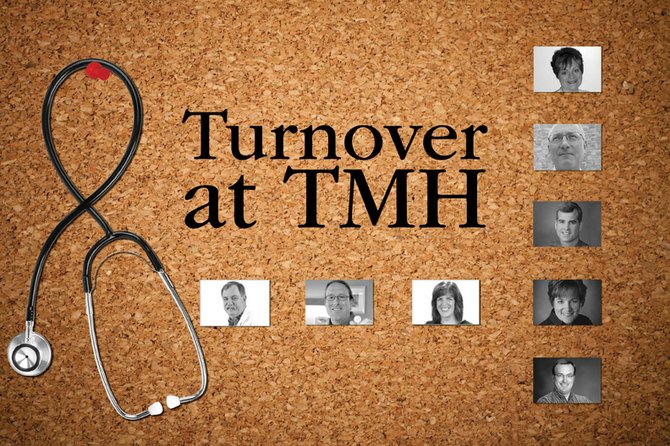 Part three of a three-part series exploring physician turnover at The Memorial Hospital in Craig focuses on the administration's procedure for looking into quality of care issues, the board's role when it comes to physician retention and community communication. From top right corner, Dr. Kristie Yarmer; below, TMH CEO George Rohrich; below, CMO Dr. Scott Ellis; below, TMH chief of organizational excellence Jennifer Riley; below, Dr. Jeffrey Womble; far left, Dr. Stan Pense; center Dr. Troy Phillips and right, Dr. Pamela Kinder.
Stories this photo appears in:

Quality of care issues, the board's role and community communication
At the end of the day, what matters to most regarding a hospital is that it meets their health needs without forcing them to leave the community they live in. With much talk about physicians leaving the The Memorial Hospital in Craig to go elsewhere for employment, those on both sides of the issue — hospital administration, employees and employees who left — have spoken out about the hospital's process for addressing quality of care issues as well as the community impact that results when a physician departs. The following is part three of a three-part series examining the issue of physician retention at TMH — if the current administration's policies regarding review of quality care issues are causing doctors to depart as well as how the hospital's board factors into the situation — told from the perspective of current and former hospital employees, as well as current administrators and board members.
December 13, 2012 5:57 p.m.