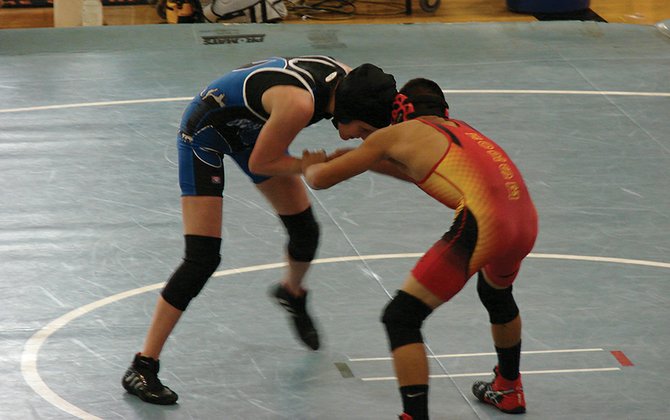 Moffat County wrestler Ashlee Griffiths grapples with an opponent from Northglenn High School during the team's weekend of duals at Grand Junction High School. They came away from it with a 3-2 record, making the Bulldogs 5-5 in duals on the season.
Stories this photo appears in:

The Moffat County wrestling team came back from the second of its three weekends in Grand Junction with a great deal to hang its hat on. The Bulldogs, which followed up five duals last week with five more Saturday and have an individual tournament in Junction this weekend, are already showing they can contend more as a team than in years past. In the five duals Saturday at Grand Junction High School, the Bulldogs went 3-2, losing to Grand Junction and Thunder Ridge High Schools, but beating Center and Northglenn and notching a third win in an extras match that formed due to Brighton High School's absence at the meet.
December 11, 2012 9:24 p.m.