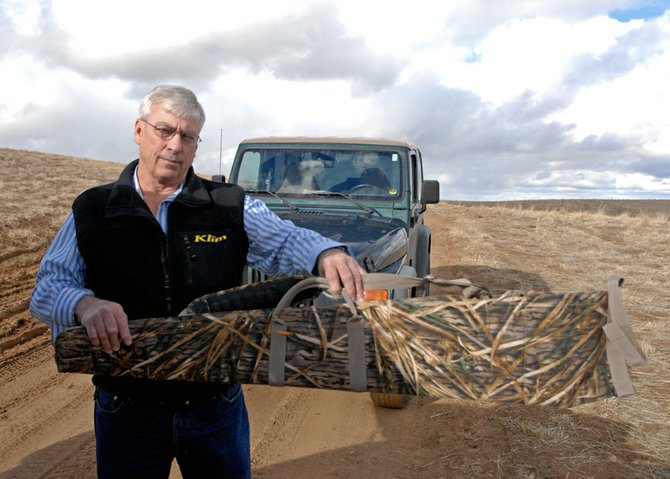 Dan Rast holds up his son, Tyler's, soft gun case. The yellow pencil marks the location where a bullet, presumably meant for a mule deer doe, pierced the gun case, traveled through the tiny window between the scope and the breech of the rifle, and struck Tyler in the arm. The nonfatal accident took place in November while Dan and Tyler were hunting mule deer in GMU 3.
Stories this photo appears in:
Family of hunting accident victim seeking closure
Accidents happen. But they can also have devastating affects on people's lives. In the case of visiting hunter Tyler Rast, 38, of Bountiful, Utah, a bullet that missed its intended target and struck him in the arm last month has not only resulted in unique physical challenges, but also has weighed heavily on the emotions of his family. "Accidents can change lives and in this case it has," said Kent Rast, Tyler's uncle. "It's really affected the family." On Thursday Kent and Dan Rast, Tyler's father, both also of Bountiful, returned to the scene of what Moffat County Sheriff's Office deputies are investigating as an accidental shooting.