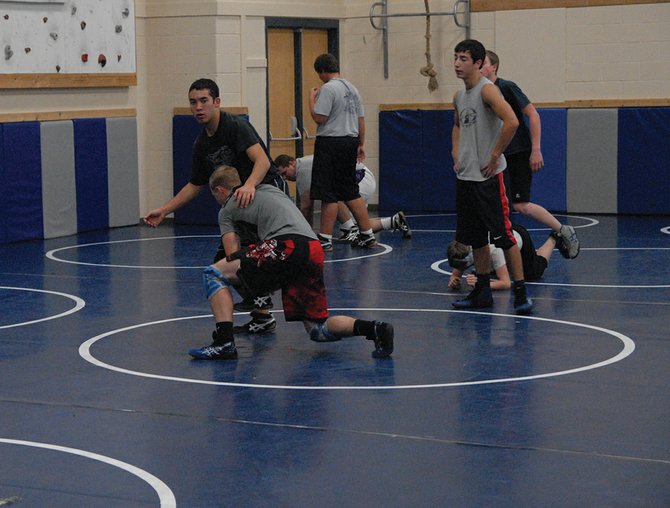 Jacob Teeter (in black) and Garrett Stewart (bottom) work on take-down moves Thursday during Moffat County High School wrestling practice. Both seniors went 4-1 in their first weekend of wrestling over the weekend at Colorado Mesa University in Grand Junction. MCHS heads back to Grand Junction Saturday for more duals.
Stories this photo appears in:

The Moffat County High School wrestling team started its season well and is looking to build on it with another weekend of duals in Grand Junction. The Bulldogs participated in five duals at Colorado Mesa University last Saturday and came away with a 2-3 record. While the win-loss mark doesn't inspire awe at the Bulldogs' performance, it came against several bigger schools while Moffat County was only able to field 10 out of 14 weight classes. That meant against some of the larger schools, like Fruita Monument and Palisade, MCHS was giving up free points. Against smaller schools, like Olathe and Ignacio, is where the Bulldogs got their wins.
December 6, 2012 6:53 p.m.