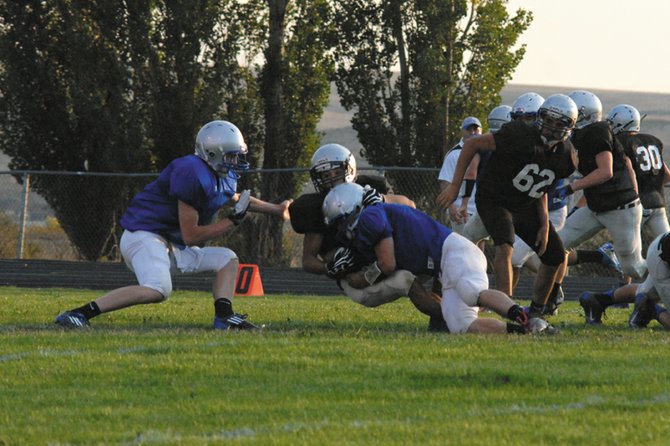 Moffat County High School defenders gang tackle a player from Coal Ridge High School in the backfield during the team's scrimmage last week. The Bulldogs will play their first regular season game of 2012 against Ridge View Academy at noon today at the Bulldog Proving Grounds.
Stories this photo appears in:

To open its season, the Moffat County High School football team will be playing against a team with contrasting style. The Bulldog's switch to a spread offense this season is well known by now. Their opponents today will run an offense that looks similar to what MCHS has done in the past. Head coach Kip Hafey said Ridge View Academy, a school from Watkins, runs a power offense which will feature a great deal of running from the I-formation. "They run a lot of I-backfield and they run a lot of old-school, smash-mouth football so they're gonna come at you," Hafey said. "They've got some big linemen so we're going to have to use fundamentals to establish the line of scrimmage both offensively and defensively in the trenches."
August 31, 2012 7:56 p.m.