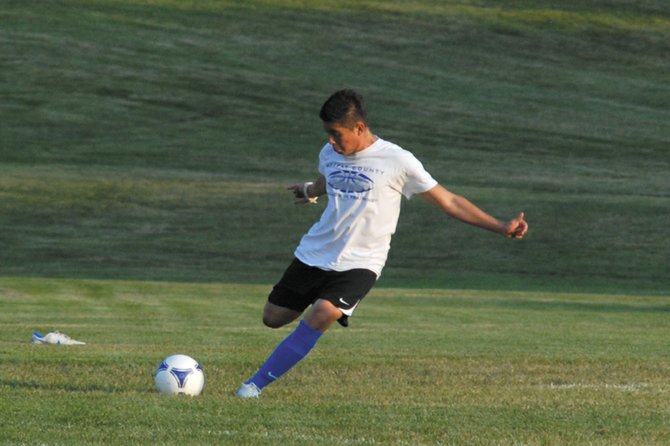 Nestor Arrellano, a junior at Moffat County High School, kicks the ball downfield during a soccer practice at Loudy-Simpson Park this summer. Arrellano is one of several versatile players returning to the Bulldogs this year.
Stories this photo appears in:
Boys soccer team ready to roll
A grueling session of summer conditioning and skill work has the Moffat County High School boys soccer team primed for a big season. The team, which begins its season by traveling to Coal Ridge High School Sept. 4, has several contributing graduates to replace from last year's team, but that's a process head coach Rusty Cox has grown accustomed to. "We had six seniors last year, but every year we have to replace a bunch," Cox said. "In our program we don't have a whole lot of players. So every year when we lose people, it's a lot." The boys team had a middling year in 2011, going 6-7-2 in the Western Slope League, but showed off its talent in certain games, including a 3-3 tie against Steamboat Springs High School, which went 13-3-1 last year.
August 31, 2012 12:43 a.m.