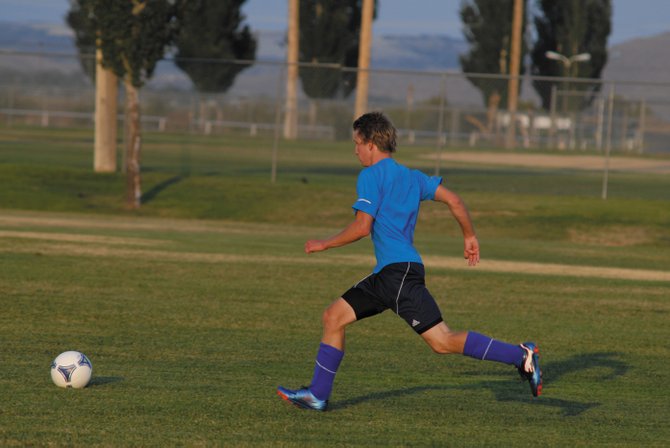 Derek Maiolo, a junior at MCHS, chases after the ball at soccer practice this summer. Maiolo has played soccer before, but this will be his first season playing for Moffat County High School. He is one of several players who will need to contribute for the Bulldogs to have a big year, according to coach Rusty Cox.
Stories this photo appears in:
Boys soccer team ready to roll
A grueling session of summer conditioning and skill work has the Moffat County High School boys soccer team primed for a big season. The team, which begins its season by traveling to Coal Ridge High School Sept. 4, has several contributing graduates to replace from last year's team, but that's a process head coach Rusty Cox has grown accustomed to. "We had six seniors last year, but every year we have to replace a bunch," Cox said. "In our program we don't have a whole lot of players. So every year when we lose people, it's a lot." The boys team had a middling year in 2011, going 6-7-2 in the Western Slope League, but showed off its talent in certain games, including a 3-3 tie against Steamboat Springs High School, which went 13-3-1 last year.
August 31, 2012 12:43 a.m.