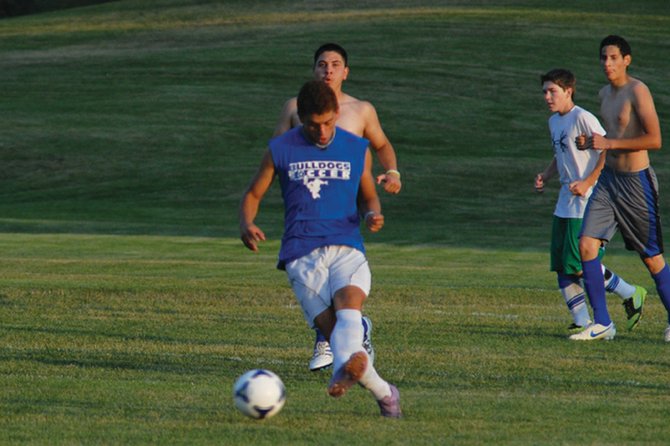 Moffat County High School senior Alan Flores makes a pass at a team practice last week. Flores and the boys soccer team played well at four scrimmages in Denver last Saturday.

Stories this photo appears in:

Boys soccer plays well in Denver
Aside from some tired legs, the Moffat County High School boys soccer team is feeling good a week before its first regular season game. The team spent last weekend in Denver and played in a scrimmage competition hosting teams from across the state in all classifications. The Bulldogs played four games Saturday, starting at 9 a.m. and finishing up after 7 p.m. By the end of the day they were spent, but head coach Rusty Cox said there were plenty of good takeaways from the games. "All-in-all, it was a good day," Cox said. "We did good. Considering how exhausted these guys were and how tore up they were, I was very impressed with my team." MCHS played Glenwood Springs High School in its first game of the day and delivered against the 4A opponent. Glenwood Springs is a school MCHS has played in league games in years past, but the team's move to Class-3A this season means Glenwood is off the schedule.