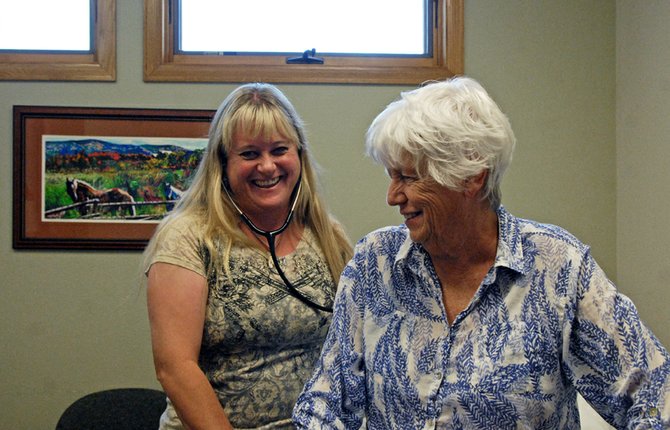 Jona Ely, left, a registered nurse practitioner, examines local resident Jane Hume Friday at the Kinder Family Clinic in Craig. Ely, who is earning a doctorate of nursing practice from the University of Northern Colorado at Greeley, currently is conducting a clinical research study on the benefits of electronic cigarettes as a smoking cessation method.
Stories this photo appears in:

There's no doubt smoking is a dangerous habit and one that is linked to hundreds of thousands of premature deaths in the United States every year. And despite the well-known consequences approximately 46.6 million Americans smoke cigarettes, according to the Centers for Disease Control and Prevention. Each year about half of the nation's smokers attempt to quit, many unsuccessfully. High rates of relapse coupled with a recent Colorado Department of Public Health and Environment report ranking Moffat County as among the most unhealthy counties in the state has inspired one local nurse to study the benefits electronic cigarettes could have on smoking cessation.