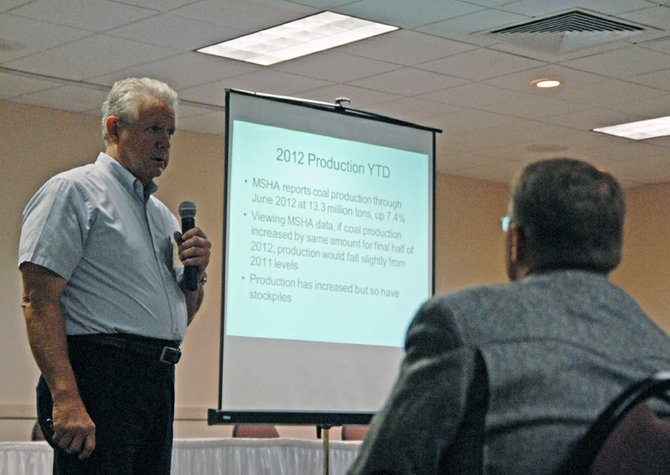 Stuart Sanderson, president of the Colorado Mining Association, kicks off a series of presentations Tuesday at the Colorado Coal & Power Generation in Craig. Sanderson said the state of coal in 2012 looks good in the world markets despite President Barack Obama and the Environmental Protection Agency's "war on coal" in the U.S.
Stories this photo appears in:

The Clean Air, Clean Jobs Act, sage grouse, and more stringent air quality regulations from the Environmental Protection Agency are among some of the concerns facing Northwest Colorado coal producers, industry officials said Tuesday. State and local representatives from the coal and power generation industries addressed those concerns during the Colorado Coal & Power Generation Conference at the Holiday Inn of Craig, 300 S. Colorado Highway 13. The annual event, hosted in recent years in Craig and Steamboat Springs, attracted more than 70 people and provided industry officials the opportunity to address the affects government regulations could have on their ability to deliver reliable electricity to American consumers. The conference featured two separate panels of speakers, including Stuart Sanderson, Colorado Mining Association president; Jerry Nettleton, environmental manager at Twentymile Mine; Rick Johnson, manager of Tri-State Generation and Transmission Association, Inc.'s Craig Station; and Chris McCourt, manager of Colowyo Mine, among others.