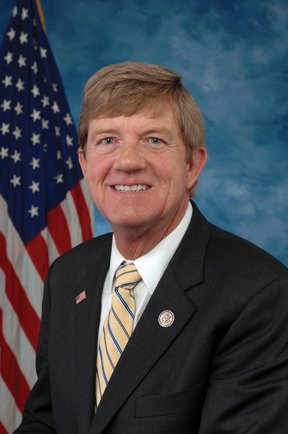 Scott Tipton
Stories this photo appears in:
More than $500,000 of Moffat County's budget still is up in the air at the federal level. The money is tied to Payment in Lieu of Taxes funding that is playing a central role in debates in the U.S. Congress. PILT funds are given to counties that have public land they cannot tax. While the funds can be used in many ways, they usually help communities such as Moffat County cover costs of infrastructure.
We have voted every way possible to repeal, defund and replace Obamacare in the House. Some even thought that a government shutdown would stop it. But as we've seen over the past two weeks, while some government functions have ceased during the shutdown, Obamacare has continued unaffected.
We fought late into the night to keep government open, pass a Continuing Resolution that listens to the concerns of our constituents and conference with the Senate. The Senate refused to negotiate on any portion of Obamacare, including creating fair treatment for all Americans under the law, removing special treatment for Congress or repealing the costly medical device tax that is raising the cost of care and costing jobs. It's disappointing that the president and Senate Majority Leader Harry Reid, D-Nev., won't sit down and discuss the issue of why they think the American people shouldn't receive the same exemptions that they gave to big business or why Congress should be exempt from the laws it passes.
Over the past month in town hall meetings and through thousands of phone calls, emails and letters, I have received a strong message from my constituents — keep government open and stop the Obamacare train-wreck in the most effective way possible. Obamacare is already hurting jobs in my district, driving up costs and making it harder for many people, especially in rural communities, to access the care they deserve.
He'll be talking about various issues, including health care, immigration and the economy. He also will discuss the legislation he is preparing that he said will create jobs.
U.S. Rep. Scott Tipton, R-Cortez, will host a fundraiser Aug. 30 in Steamboat Springs with House Speaker John Boehner, R-Ohio.
Congressman Scott Tipton, R-Cortez, was in Denver on Thursday for a field hearing of the Congressional Western Caucus hosted at the state Capitol. The theme of the hearing focused on forest health, wildfires and habitat protection, which provided Tipton an optimal venue to tout legislation he is carrying that would provide state and local elected officials the authority to designate high-risk wildfire areas.
State Rep. Scott Tipton, R-Cortez, will be in Craig on Wednesday to thank voters for their support during the November election.
Questions arise about poll's validity, Pace's latest ad
A recent poll shows Congressman Scott Tipton, R-Cortez, and Sal Pace, D-Pueblo, are in a statistical dead heat for the office of the Third Congressional District of Colorado. The poll, released Monday by Grove Insight, a Portland, Ore.-based opinion research and communications strategy company, is based on interviews with 400 likely voters in CD3. The interviews were conducted from Sept. 25-27, according to a Grove Insight news release. The poll shows Tipton in the lead, garnering support from 42 percent of the interview pool. Pace trails by just three points, with 13 percent reporting they are undecided, and a margin of error of plus or minus 4.9 percentage points, according to the Grove Insight release.
Tipton: Pace can't reinvent himself as Congressional candidate
A single-payer, government run healthcare system dominated the most recent round of political volleys this week in the race for the Third Congressional District of Colorado. Michael Fortney, campaign manager for Congressman Scott Tipton, R-Cortez, said Wednesday the ongoing national healthcare debate — specifically in regards to Obamacare — represents one of many important issues to voters that challenger Sal Pace, D-Pueblo, has dodged since announcing his bid for the office of CD3. Fortney referenced a June 9, 2009 article in the Pueblo Chieftan in which Pace stated he would not stop pressing for a single-payer healthcare system in Colorado despite the fact HB09-1273 failed to pass through the Colorado General Assembly.
Pace camp charges Tipton flip flops on Farm Bill
Last week Congressman Scott Tipton, R-Cortez, endorsed a discharge petition that would bring the Farm Bill before the U.S. House of Representatives for a floor vote. The next day, Sept. 13, Tipton removed his name from the petition. Sal Pace, D-Pueblo, one of two challengers vying for the Third Congressional District of Colorado — an office currently occupied by Tipton, criticized the Congressman for flip flopping on the Farm Bill, and bowing to political pressure from House leaders and right wing special interest groups like Club for Growth.
Tipton camp charges ad is disingenuous
On Monday the Sal Pace campaign launched its second television advertisement of the cycle. Pace, a Pueblo Democrat, is one of two challengers running against Congressman Scott Tipton, R-Cortez, for the office of the Third Congressional District of Colorado. The ad, entitled "Nearby," highlights Pace's promise to champion for Colorado seniors in Congress if elected. It is currently running district wide. The ad features Pace's father, Salvatore — a retired mechanic living off of social security.
Tipton: Let's have that conversation about taxes
Sal Pace, a Pueblo Democrat running for the Third Congressional District of Colorado, said recently he would welcome the opportunity to compare his record on taxes with that of his opponent and CD3 incumbent Scott Tipton, R-Cortez. And with the Colorado Mesa University debate on the horizon, Tipton called out Pace, saying Saturday's event would be a perfect opportunity to "have the conversation." "I welcome this comparison," Tipton said in a Tuesday news release. "There is a great divide between Sal Pace's rhetoric and record when it comes to raising taxes. He can continue to say he has stood up for families and small businesses, but that does not mean it's true."
Fortney: Pace needs to bring ideas to the table
Last week Sal Pace, a Pueblo Democrat running for the Third Congressional District of Colorado, unveiled an online tool highlighting his contentions of the Ryan Budget. During a press call with reporters Wednesday Pace also defended his lifetime 15.77 percent Colorado Union of Taxpayers rating, dismissing CUT as a radical organization and touting his record in the Colorado legislature as middle of the road. Pace cited legislation he carried in the state house this year that eliminated the estate tax on farmers and said he would be happy to compare his record on taxes with his opponent, and CD3 incumbent, Congressman Scott Tipton, R-Cortez. The Tipton camp said Friday they would welcome that public conversation.
This week marked a new beginning in the campaign for Colorado's Third Congressional District. On Wednesday, Congressman Scott Tipton, R-Cortez, and challenger Sal Pace, D-Pueblo, participated in their first public debate at Adams State University in Alamosa. The event was hosted by the university's veterans club. Tisha Casida, an Independent candidate, and others vying for the office were not invited.