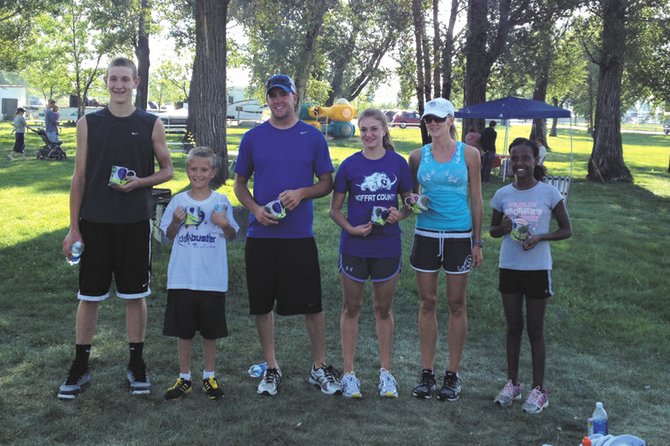 Age group winners from the Dew Buster 5K Run/Walk and One-Mile Family Fun Run pose after the race Saturday morning. Above, from left to right, are Matt Hamilton, Wyatt Mortenson, Derek Duran, Katelyn Peroulis, Elizabeth Tucker and Rosalie Mortenson.
Stories this photo appears in:

Before grabbing some grub at the Colorado State Barbecue Championships, some Moffat County residents got up early for a Saturday morning run. More than 80 people participated in the Friends of Moffat County Education Dew Buster 5K Walk/Run and One-Mile Family Fun Run at Loudy-Simpson Park. The race was 3.1 miles. Derek Duran, who crossed the finish line first in a time of 21:07, said it was an excellent day for a run. "It's a perfect day out here," Duran said. "This was a good atmosphere, it was a good turnout, so it was fun." Wyatt Mortenson, 9, was the overall runner-up in the race, finishing in 23:15.