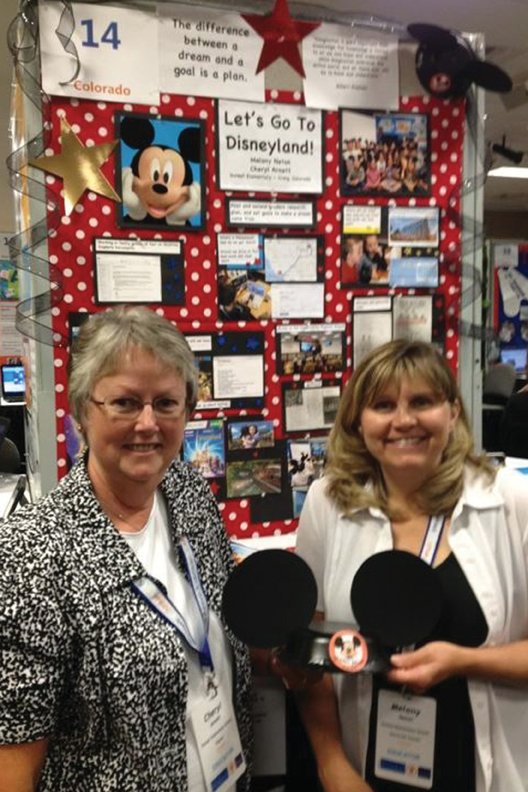 Sunset Elementary School teachers Cheryl Arnett, left, and Melany Neton present their classroom project at the Microsoft Partners in Learning 2012 U.S. Forum in Redmond, Wash. After winning a second place honor at the event, the two will attend the global event in Prague, Czech Republic, this fall. Neton attended the U.S. Forum last year, though she did not place high enough to go to the global one. Arnett qualified for a Microsoft global event in 2010, which was hosted in Cape Town, South Africa.
Stories this photo appears in:

One of the most popular ad campaigns of the last 30 years involved champion athletes declaring, "I'm going to Disneyland," after winning the Super Bowl, NBA Finals or World Series. For Cheryl Arnett and Melany Neton, their ultimate destination may not be the famed Anaheim amusement park, but the Magic Kingdom still figures quite heavily into their own recent victory. Arnett and Neton, Sunset Elementary School teachers, recently attended the Microsoft Partners in Learning 2012 U.S. Forum in Redmond, Wash., a two-day conference for educators from across the country to present projects utilizing Microsoft technology in the classroom. Out of 102 attendees, the two Sunset teachers were among 16 picked as the top classroom projects in the nation, all of whom will go on to represent the country at the Microsoft Partners in Learning 2012 Global Forum later this year.