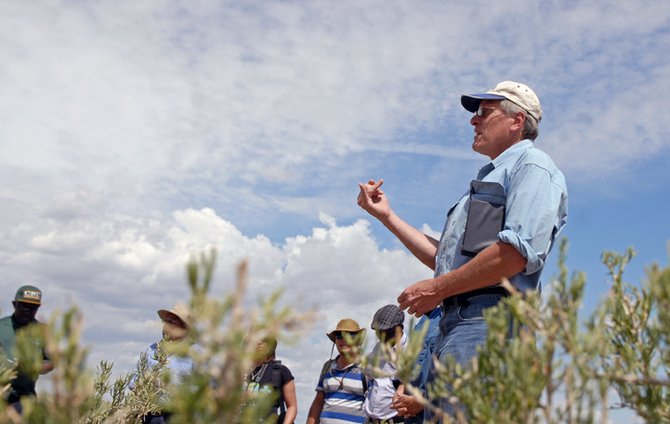 Jim Wurz, a faculty member with Colorado State University, leads a discussion on multiple use lands Wednesday on a private ranch near Cross Mountain. The Bureau of Land Management's Little Snake Field Office is in negotiations to buy the 900-acre property.
Stories this photo appears in:
In 1990, the Warner College of Natural Resources at Colorado State University launched a month-long course to address a lack of experience among public land managers in Latin America. Each year, students enrolled in the program spend a day touring public lands in Moffat County managed by the Bureau of Land Management's Little Snake Field Office. It's an annual tradition that not only wows first-time foreign visitors, but also has become one of the highlights for CSU faculty members. "Visiting Moffat County is great for us because there's such a variety of (land management) issues and opportunities situated a relatively short distance apart," said Jim Wurz, a CSU faculty member and one of the directors of the Spanish-taught course. "I've always liked Moffat County because it's a landscape that lets you rest your eyes.