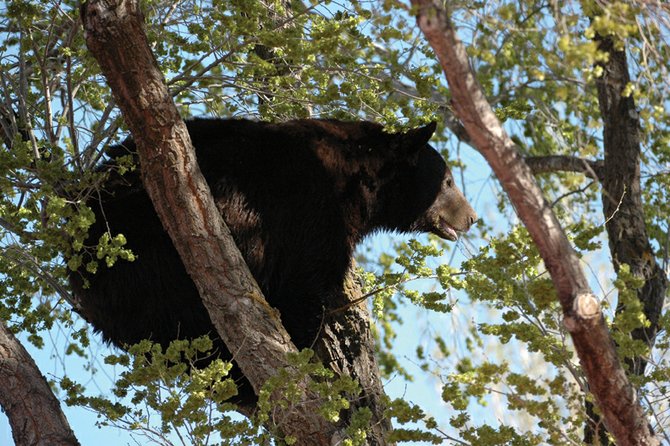 In this photo taken by local photographer Marvin Cattoor, an adult male black bear crouches in a tree Sunday morning on Ranney Street. The bear also took refuge in a tree on Mack Lane, said Cattoor, who took several photos of the animal before it was euthanized by Colorado Parks and Wildlife officials.
Stories this photo appears in:

Colorado Parks and Wildlife officers euthanized an adult male black bear Sunday in Craig after attempts to tranquilize the animal failed, an agency spokesman said. "Our officers did not put this bear down for any other reason other than the fact that it was a tagged nuisance bear and it did not look like it was in any hurry to leave the city," said Mike Porras, public information officer for Parks and Wildlife's northwest region. The bear was reported Sunday morning to the Moffat County Public Safety Center, where the call was forwarded to Parks and Wildlife. The caller reported the animal was in the yard of a home near the intersection of Third Street and Mack Lane, Porras said.