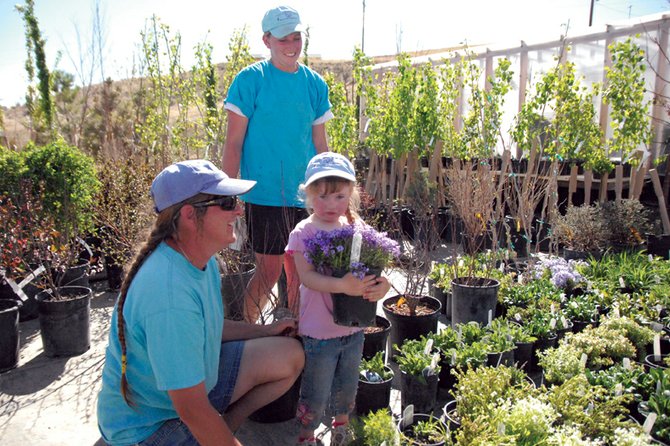 Bears Ears Landscapes owner Suzanne Meyer, left, and employee Jacquelyn Denker, above, assist Suzanne's daughter, Peyton, 3, in tending to a creeping phlox plant amid the many trees, shrubs and flowers surrounding the business, located at 1815 Moffat County Road 183. Meyer said she has been seeing an increase in requests with the start of warm weather, as have other local landscapers.
Stories this photo appears in:

With the weather of the warmer months finally turning out, it's time to improve the visual appeal of the outdoors. The landscaping businesses of Northwest Colorado are getting ready for the rush of people looking to spruce up their homes and businesses. The staff of Bears Ears Landscapes, 1815 Moffat County Road 183, recently brought in its big shipment of flowers, trees and other plants for customers craving something new and colorful. "It's definitely our busy time of year now that winter's over," owner Suzanne Meyer said.