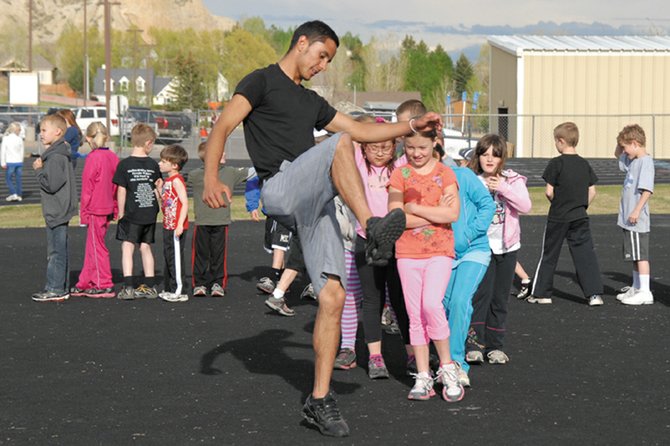 Moffat County High School senior Johnny Landa shows the proper foot placement used in the high jump to a group of young track students at Thursday's practice session for the Moffat County Youth Track program. Landa was one of many MCHS varsity track team members who, along with other volunteers, are helping prepare participants in kindergarten through sixth-grade for the program's May 14 track meet.
Stories this photo appears in:
At most track and field events, you won't find a high jump bar that bounces up and down, nor will you find hurdles that could be used for a croquet game. And if you drop the sphere usually used in the shot put, you could hobble home with a broken toe. But, the smaller, lighter versions of these items help the future track athletes of tomorrow get a jump start on the sport. More than 140 boys and girls have turned out the last couple weeks for the Moffat County Youth Track program at the Moffat County High School track. Starting April 16, children from kindergarten through sixth-grade have had the opportunity to learn the ins and outs of track and field events such as the hurdles, high jump, long jump, shot put and running relays in a clinic run by adults and MCHS athletes with experience in the sport. Organizer Michele Chalmers said the plan was to expand the program from the Little Feet Fun Meet hosted in 2010 and 2011. Instead of spending only one day running, jumping and throwing, kids spend eight practices mastering each event before the actual meet, which is May 14.