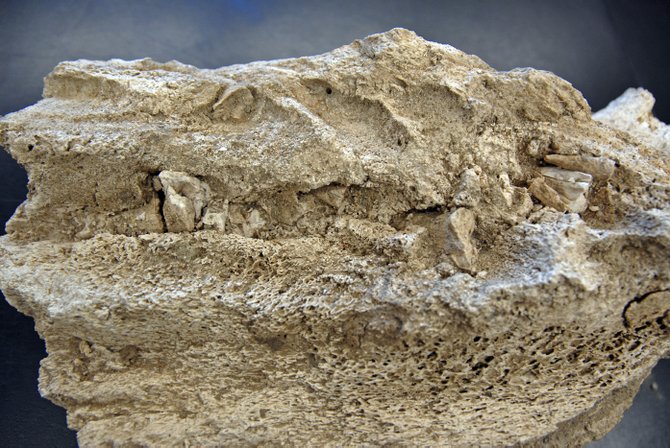 This Columbian Mammoth dentary — lower jaw complete with teeth — was recovered a number of years ago from the Old Craig View subdivision at 13th Street and Pine. The Sundance Research Institute, in partnership with Moffat County High School and Steamboat Springs High School, is planning an archaeology/paleontology dig to begin May 1 that could unearth the remains of as many as three mammoths.
Stories this photo appears in:

Dr. Jan J. Roth, of the Sundance Research Institute, said he's about to embark on a project that has renewed his passion for archaeology and paleontology — the discovery of what he believes are the remains of a Columbian Mammoth inside city limits. He announced the discovery during a Craig City Council meeting earlier this month. "I haven't been this excited for a long, long time," Roth told council members. "It's a very unique opportunity for the City of Craig to have a mammoth site." The Columbian Mammoth, a slightly larger cousin of the Woolly Mammoth, roamed from Alaska to South America beginning one million years ago, Roth said.