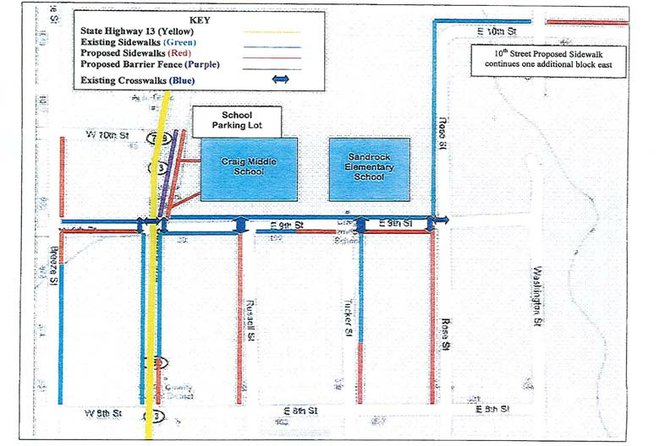 This map provided by Craig City Manager Jim Ferree shows proposed and existing sidewalks near Craig Middle School and Sandrock Elementary School. The city has earmarked a $188,905 Safe Routes to School Grant, offered by the Colorado Department of Transportation, to pay for new sidewalk construction.
Stories this photo appears in:

Students at Craig Middle School and Sandrock Elementary School will, at some point, have a safer way to walk to and from school. But exactly when the City of Craig can start a grant funded-sidewalk project is still "up in the air," City Manager Jim Ferree said. The city plans to install sidewalks along portions of Yampa Avenue and Russell, Tucker and Rose streets between Eighth and Ninth streets, just south of CMS and Sandrock Elementary. Proposed walkways also are planned on portions of Ninth Street, Breeze Street and 10th Street, the last of which lies northeast of Sandrock Elementary.