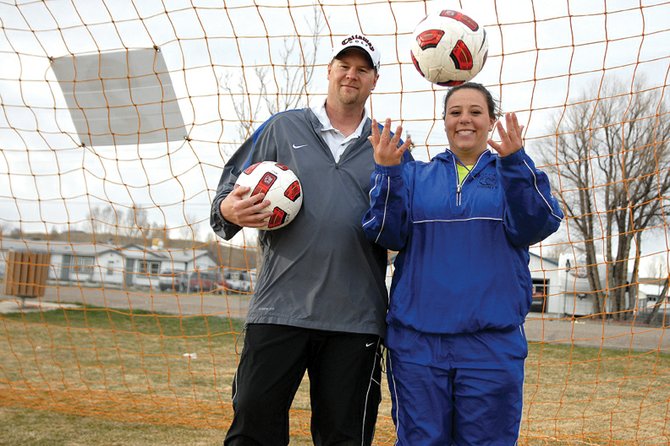 Harry Tripp, left, and his daughter, Skylar, are enjoying their new relationship on the soccer field, with Harry as the head coach of the Moffat County High School girls varsity soccer team and Skylar as the team's starting goalie. Skylar said there are pros and cons to having her father as her coach, but she is always learning from him as he pushes her to be her best.
Stories this photo appears in:

Harry Tripp was no stranger to success on a soccer field in high school. As a sophomore, junior and senior, Harry, who primarily played defense, helped lead his team to the Colorado boys state soccer tournament, advancing as far as the Elite 8. However right out of high school, Harry and his wife, Erica, had their first daughter, Skylar, which Harry said made him put his soccer playing days on the back burner. "When we had Skylar, Erica and I moved here to Craig from the Denver area because I had a job at the coal mine," he said. "I still played in some adult soccer leagues, but nothing really hashed out and I couldn't play that often." Skylar has proven to be the catalyst Harry needed to get back into the game.