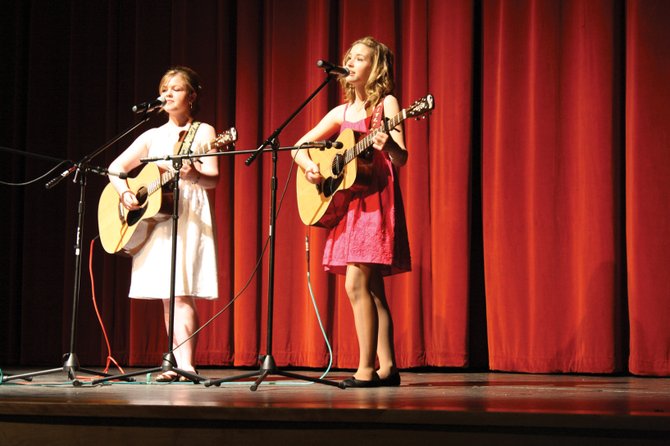 Nicole Feree, left, and Caitlin Harjes, known onstage as The Denim Girls, perform a duet of "Rocky Mountain High" during last year's Craig Concert Association annual Talent Show. Harjes and Ferree played "Wide Open Spaces" during their audition Saturday at the Moffat County High School auditorium. They said they have a good chance at performing in the annual concert for their fifth consecutive time.
Stories this photo appears in:

For rural communities like Craig, it's difficult to attract high-profile bands and musicians, if not impossible. That's fine with Denise Hainault, a Moffat County High School music teacher and Craig Concert Association Board member. "We have a good pool of talent right here in this little community," Hainault said. "I'm always impressed when people take the stage and show you something you didn't know was there before." On Saturday, 26 Craig residents auditioned at the Moffat County High School auditorium for the concert association's annual talent show, which is scheduled for 7 p.m. April 21, also at MCHS.