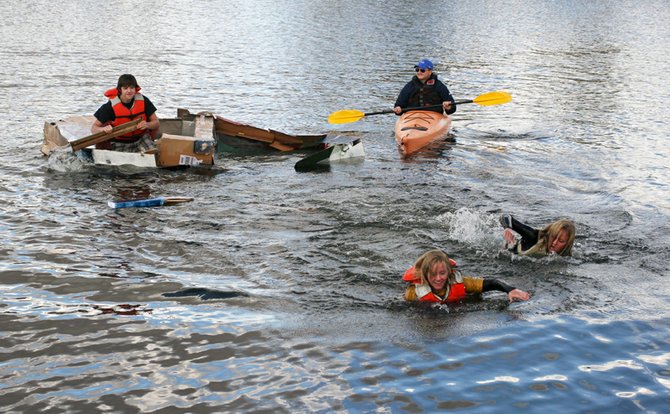 Spencer Hebert, left, continues to paddle while teammates Katelyn Sollenberger, front, and Nicole Sollenberger swim for shore and Moffat County High School teacher Eric Hansen looks on Friday afternoon during the cardboard boat regatta at Loudy-Simpson Park. Hebert said he intended for his boat, named "Titanic II," to sink.
Stories this photo appears in:

Spencer Hebert furrowed his brow as he tried to think of a name for the vessel at his feet. "It has to have something to do with sinking," said Hebert, a Moffat County High School junior, looking at the craft made of cardboard and duct tape as it waited on the shore of the pond at Loudy-Simpson Park. Hebert, along with Katlyn and Nicole Sollenberger, also juniors, made the boat for the sixth cardboard boat regatta Friday, an annual competition in which students make boats out of cardboard, duct tape and little else.