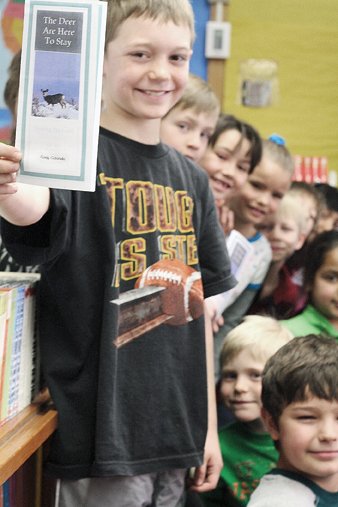 Seth White, a second-grade student at Sunset Elementary School, stands by his classmates while holding a copy of "The Deer Are Here to Stay" — an informational brochure. The brochure was a collaborative project that outlines Craig's urban deer population, and ways to limit the herd from growing.
Stories this photo appears in:

On a regular workday, Sunset Elementary School teacher Cheryl Arnett reaches out to about 25 to 30 students. This fall, her lesson plan will expand well beyond the boundaries of her classroom door to impact hundreds of students, maybe more. And, it will include a little piece of Craig. Arnett was contacted two weeks ago by the Smithsonian Center for Education and Museum Studies of Washington, D.C., about the possibility of including part of her curriculum in its twice-yearly publication, Smithsonian in Your Classroom.
Second-grader Logan Montgomery said there's a simple reason he and his fellow classmates have taken steps to tackle Craig's deer problem. "Because we're smart cookies," he said. On Thursday, 15 students in Cheryl Arnett's Sunset Elementary School classroom sat cross-legged on the floor and discussed "The Deer Are Here to Stay" — a student-produced brochure that offers practical solutions to manage the local deer population.