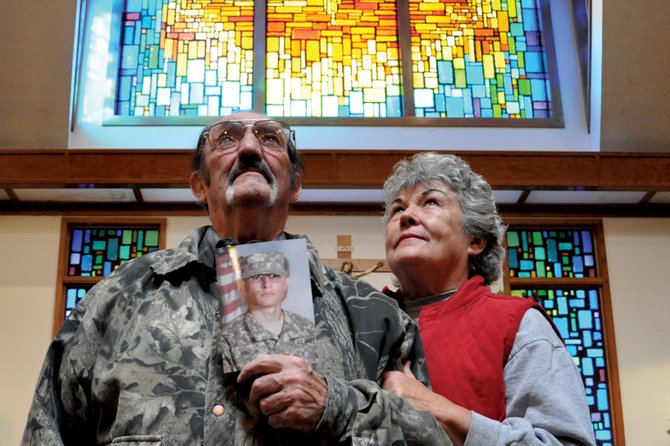 Ken "Howdy" Davis holds a picture of his grandson, Dylan Correia, with Fran Davis, his wife of 23 years, at his side Friday morning at St. Michael Catholic Church. Correia, a private first class with the U.S. Army, surprised the local couple with an unexpected visit Christmas Eve during a leave from his deployment in Afghanistan.
Stories this photo appears in:

If Fran Davis' memory of Christmas Eve could take form, it would be a photograph, its edges worn soft by use from a loving hand. Some of the details in the picture are blurry, like a background out of focus. She can't remember the songs she was supposed to sing that night for mass at St. Michael Catholic Church or what she said when she greeted other members of the congregation. But the focal point is crisp, the subject clear and distinct. "Do you know how many times a day I relive that moment?" she said, tears spilling down her cheeks.
December 31, 2011 midnight