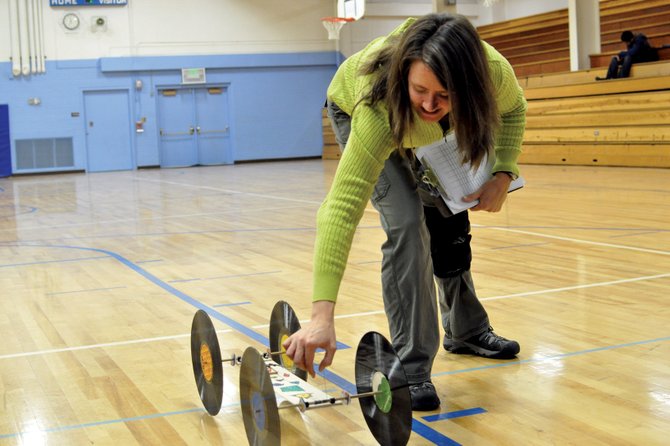 Sandy Sorensen, Craig Middle School seventh- and eighth-grade science teacher, examines eighth-grader Ian Day's mousetrap car Tuesday morning during the school's annual mousetrap car rally in the CMS gym. The event was part of a physics unit that included lessons about simple machines, like levers, wheels and axles.
Stories this photo appears in:

Slowly but steadily, Tanner Hampton's mousetrap car crept away from the starting line Tuesday morning. His car didn't make it to the other end of the Craig Middle School gym, where he and other eighth-graders participated in the 15th annual mousetrap car rally. But, the 12 hours he spent on the project was far from a loss. If nothing else, it helped him understand how some of the simplest machines work. "I learned how friction has a lot to do with how things move and operate," he said, examining his car after its run across the polished hardwood.
December 21, 2011 midnight