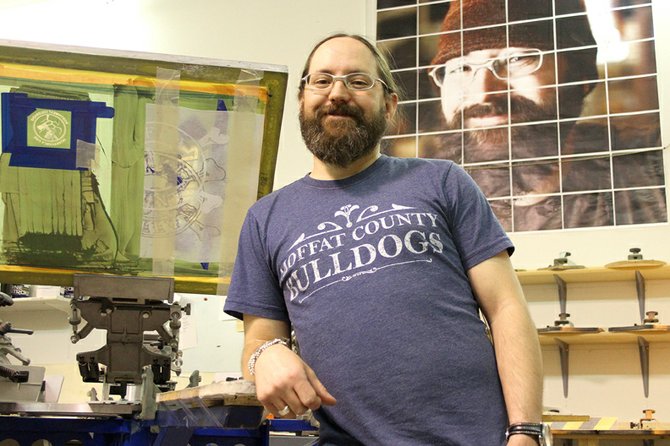 Jeremy Browning leans on screen printing equipment in the workroom of Chaos Ink, 80 E. Fourth St. Browning bought the business in 2004 with his wife, Cyme, and provides design work on T-shirts and other items. Before Chaos Ink, Browning was a reporter for the Craig Daily Press. In his spare time, he enjoys gardening and camping with his family.
Stories this photo appears in:

"We've been here for seven years now, me and my wife, Cyme. We bought it from the old owner in 2004. The first couple years were pretty rough. It was a lot of really late nights and long hours and struggling to get by, and we started hitting all cylinders around 2006, 2007, and we've been really fortunate to stay really busy. "My brother, Joel, was my pressman for two years and my brother Nate, well, all my family just helped whenever. Whenever we run into a bind or we've got a big order they'll come down and help us out.