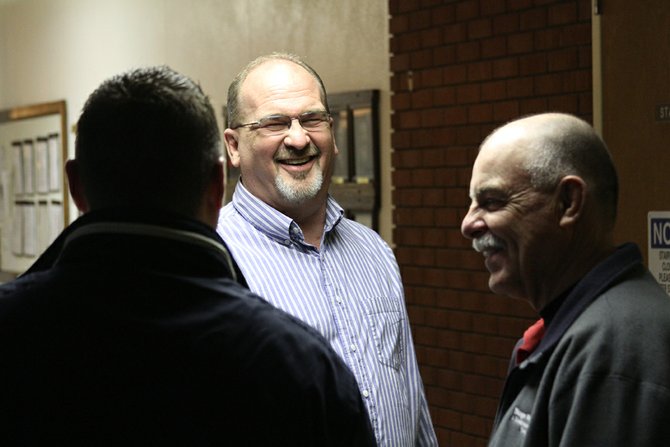 Joe Bird, center, shares a laugh with Ray Beck, right, and Tony Bohrer Tuesday night at the Moffat County Courthouse. All three were vying for a Craig City Council seat. Beck and Bird were successful, with about 20 and 18 percent of the vote, respectively, while Bohrer's 11.9 percent was not enough to secure a council seat. Stephen Hinkemeyer also fell short, with 10.8 percent of the vote. Don Jones will return to the council with 21 percent of the vote. Byron Willems, an incumbent, earned 17.6 percent of the vote and will fill the vacancy left by mayor-elect Terry Carwile.
Stories this photo appears in:

Craig Mayor Don Jones compared election night to a game of poker. "Until you turn over all your cards, you don't know where you're at," Jones said. "You do the best you can, those are the cards you play, and I had the winning hand this time." Jones, who was term-limited as mayor, was one of three candidates elected to the Craig City Council in Tuesday's municipal election.