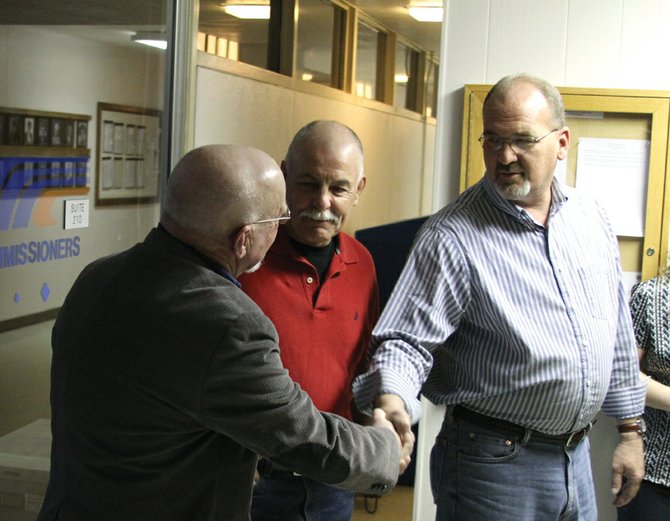 Joe Bird, right, and Terry Carwile, left, congratulate each other as Ray Beck, center, looks on Tuesday night at the Moffat County Courthouse. Bird and Beck were elected to the Craig City Council and Carwile was elected Craig mayor in Tuesday's municipal election. The election included 51.9 percent participation from the city's 3,152 active voters.
Stories this photo appears in:
Tuesday's election boasts 51.9-percent participation from active voters
Election officials received more than half the ballots mailed to active voters for Craig's municipal election, according to final tallies released Tuesday night. Craig City Clerk Shirley Seely said 1,638 ballots were counted for the election, or 51.9 percent of the 3,152 ballots mailed out to active voters. Earlier this year, city officials approved changing the election's format from the traditional polling place to an all mail-in election. Ballots were sent to active voters in mid-March.
Voting results from today's Craig municipal election are now finalized and city voters have elected a new mayor and three city council members. Turnout was 51.9 percent in the all mail-in ballot.