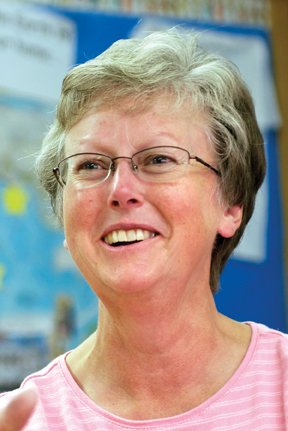 Cheryl Arnett
Stories this photo appears in:

On a regular workday, Sunset Elementary School teacher Cheryl Arnett reaches out to about 25 to 30 students. This fall, her lesson plan will expand well beyond the boundaries of her classroom door to impact hundreds of students, maybe more. And, it will include a little piece of Craig. Arnett was contacted two weeks ago by the Smithsonian Center for Education and Museum Studies of Washington, D.C., about the possibility of including part of her curriculum in its twice-yearly publication, Smithsonian in Your Classroom.

Editor's note: Craig Daily Press columnist and Denver Post contributor Janet Sheridan wrote the column below about Sunset Elementary School teacher Cheryl Arnett. The column originally appeared in the Nov. 7 edition of the Post. When I was seven, my teacher clasped her hands in front of her prominent bosom, wobbled her chins and exclaimed, "Aren't we fortunate to be citizens of America, the greatest country of all; and to live in Utah, the best state of all!" At first, I glowed with pride at the marvelous double play I had achieved. Then a question popped into my mind and pierced my rosy glow: What about the children who live in faraway places?