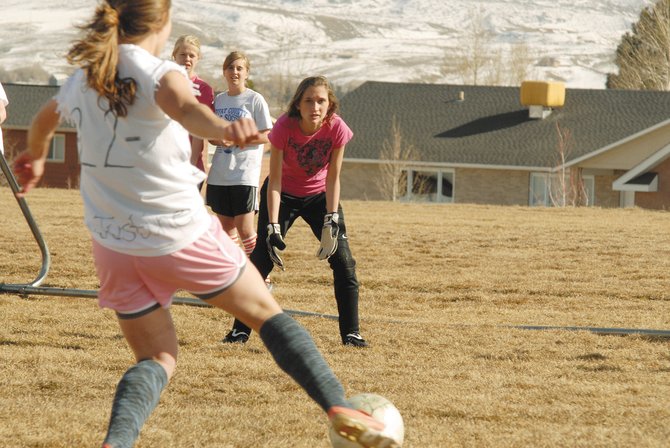 Goalie Jaycee McCoy, center, prepares to deflect a shot from Justine Hathhorn, left, on Monday at Moffat County High School. The MCHS girls varsity soccer team will play at 4 p.m. today in Palisade. The MCHS girls junior varsity team will play at 5:45 p.m. today, also in Palisade. For more, see page 13 in sports.
Stories this photo appears in:

Bulldogs girls teams play today in Palisade
After the Moffat County High School girls varsity soccer team scored its first goal of the season, first-year head coach Harry Tripp said his worries waned. Tripp and the varsity soccer team won, 3-1, on March 13 in Eagle Valley to claim Tripp's first high school win. At 4 p.m. today, Tripp and the Bulldogs will try to build on their season-opening victory when they play Palisade on the road.