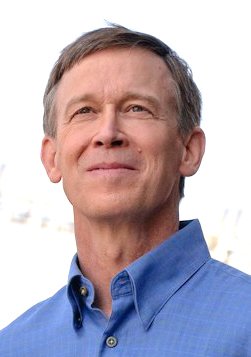 John Hickenlooper
Stories this photo appears in:

In a proclamation made today, Gov. John Hickenlooper temporarily renamed Colorado's 14ers — peaks surpassing 14,000 feet in elevation — after active players on the Denver Broncos roster. The names will be effective for one day: Super Bowl Sunday, when the AFC Championship team will battle the Seattle Seahawks for glory in Super Bowl XLVIII.

U.S. Secretary of the Interior Sally Jewell will be stopping in Moffat County Tuesday to talk sage grouse.
Gov. John Hickenlooper saw standing ovations from both sides of the aisle for his State of the State speech Thursday. He led the speech with a look at the improving Colorado's economy. "In 2010 this state was ranked 40th in the nation," he said. "Now three years later, Colorado is the fourth fastest job growth state in the country."
Gov. John Hickenlooper is coming to Craig on Monday. As part of a tour of western Colorado, the governor will be stopping at Colorado Northwestern Community College for a town hall meeting. He will provide a short presentation on some pressing issues, and then turn it back to Moffat County, said Reeves Brown Executive Director of the Department of Local Affairs. Hickenlooper's trip to was spurred by "more than one request for the governor to visit Moffat County," Eric Brown, director of communications for the governor, said in an email.
Colorado Gov. John Hickenlooper will hold a Northwest Colorado Community Forum from 11 a.m. to 12:15 p.m. Nov. 25 at Colorado Northwestern Community College's Academic Building Room 175 in Craig.
In the past week, Colorado Gov. John Hickenlooper expressed remorse for his frayed relationships with rural Colorado. In light of the secession movement, in which 11 counties want to secede from the state, he suggested he hasn't been doing everything he can to bring all voices to the table.
Craig resident Frank Moe requested that Gov. John Hickenlooper visit Moffat County to discuss various concerns constituents in rural Colorado have about the state's current political climate.

Gov. John Hickenlooper will visit Hayden on Friday afternoon, his office reported today. Hickenlooper is scheduled to visit Yampa Valley Feeds, 198 Lincoln Ave., at 3 p.m., during a Western Slope trip regarding economic development.
Christina Oxley, executive director of the Craig Chamber of Commerce, has tried for the last several years to book the governor for her organization's annual State of the County event. On Thursday, she got her wish when Gov. John Hickenlooper's staff confirmed he will be the keynote speaker for the event. "Going into it, it was something we really believed was a long shot," Oxley said. "Getting a Colorado governor not just over to the Western Slope, but in the northwest corner, rural Colorado, has been a challenge."
Mathers: Hickenlooper supports Colorado clean coal tech
Moffat County Commissioner Tom Mathers said he was pleasantly surprised by a Wednesday meeting with Gov. John Hickenlooper in Denver. "It was so much different than that other guy, Ritter," he said while driving back from the meeting. "He is very personable and very attentive. When you talk to him, you know he is listening to you."

Energy tops commission's list of discussion points for Hickenlooper meeting
Moffat County Commissioner Tom Mathers said Gov. John Hickenlooper probably knows the primary topics the three-member commission wants to discuss with him. Energy and natural resources. "I think he'd probably be interested in if we had any solutions to the problems," Mathers said. "Not just, 'Come and tell me what the problem is.' But, 'What is the solution?'"
Democrat John Hickenlooper planning visit to Center of Craig, Rotary Club
John Hickenlooper, Democratic candidate for governor, will be in Craig next week for two events. Hickenlooper will appear for a meet and greet from 5 to 6 p.m. Monday at the Center of Craig, 601 Yampa Ave. Moffat County Democratic Party Chairman Ted Crook said the meeting is open to the public and members of any political party are welcome to attend.