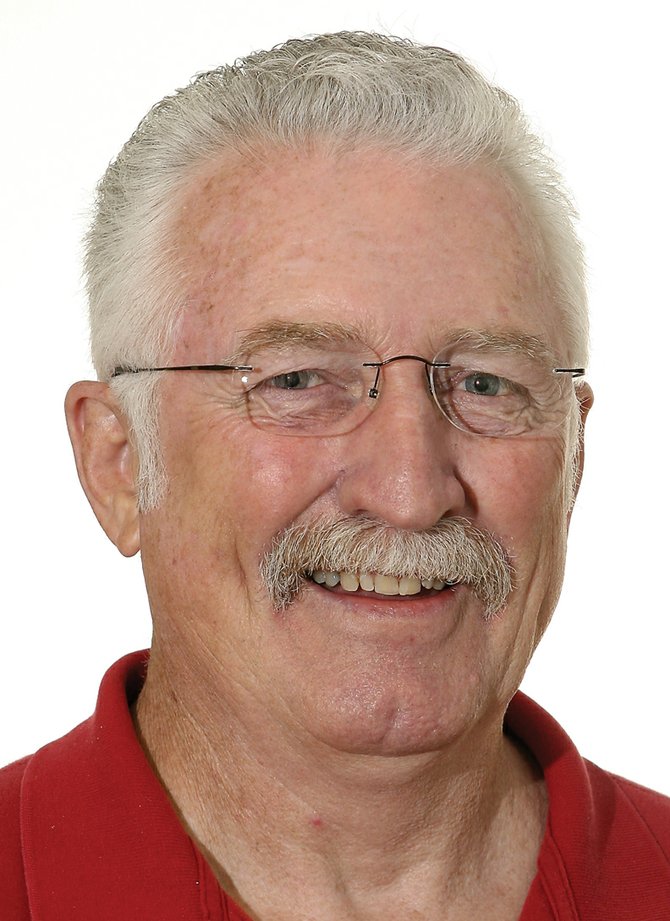 Tom Mathers
Stories this photo appears in:

Moffat County's elected officials continue to rip a bill now making its way through the Colorado House of Representatives that would require Tri-State Generation and Transmission Association to increase its renewable energy portfolio to 25 percent by 2020.
The last year has been productive for Moffat County, said Tom Mathers, chairman of the three-member Moffat County Commission. Twentymile Mine announced it is moving into a new pit, Western Fuels-Colorado, LLC acquired Colowyo Coal Co. and years of fiscally conservative policies have resulted in growth in the county's general fund. "Those things are huge and there's a lot to be positive about," Mathers said. "I don't want to steal any thunder from our state of the county speech, which we do every year in February, but this was a very good year for Moffat County. "We planned for the worst and it came in a lot better than we thought it would."
Moffat County Commissioner Tom Mathers settled his debt Wednesday with the Moffat County Treasurer's Office for unpaid property taxes totaling approximately $11,000. Mathers was delinquent in payment on four undeveloped, commercial lots he and two partners own near the Colorado Highway 13 bypass. "I'm a busy man," Mathers said Wednesday. "I've got a lot of irons in the fire — personal, business and county-wise — which keeps me really, really busy.
All five of Moffat County's major government funds experienced growth in 2010, according to findings of an independent audit conducted by McMahon and Associates, LLC, an Avon-based firm. Moffat County increased its net income by $5.2 million, according to the audit.
Mathers: Hickenlooper supports Colorado clean coal tech
Moffat County Commissioner Tom Mathers said he was pleasantly surprised by a Wednesday meeting with Gov. John Hickenlooper in Denver. "It was so much different than that other guy, Ritter," he said while driving back from the meeting. "He is very personable and very attentive. When you talk to him, you know he is listening to you."
For Moffat County Clerk and Recorder Elaine Sullivan, Tuesday will be one she won't soon forget. And even though she has done it twice before, she doesn't think the day's activities will be any less moving. Sullivan will join seven other elected officials at 1 p.m. Tuesday in Moffat County District Court to be sworn into their respective elected offices. The ceremony will be a completely new experience for some, and for others it will be one they have had the honor of participating in several times before.
Commissioner declines, says he will keep eye on applicants
Shortly after State Sen. Al White announced he would resign from his seat in the legislature, a Moffat County Commissioner's cell phone started to ring. That cell phone belonged to commissioner Tom Mathers and on the other end were several former state senators encouraging the 61-year-old Craig native to throw his hat in the ring for White's position, he said. White, a Hayden Republican, will be named director of the Colorado Tour­­ism Office on January 11. The Eighth State Senate District Central Committee vacancy committee will soon start looking to replace him. The committee will meet at 2 p.m. Monday to discuss appointing a person to serve the remaining two years of White's term. The committee will review letters of interest and interview candidates for the position Monday, several of whom have already stepped forward.
Kerry Moe to challenge Tom Mathers for District 3 in November
Craig resident Kerry Moe, 48, has announced she will run as a write-in candidate for the Moffat County Commission in November's general election. Moe, a Republican, filed her candidate petition Monday afternoon for the District 3 commission seat currently held by Tom Mathers. Moe's husband, Frank, ran unsuccessfully for the same seat in the Aug. 10 Republican primary election against Mathers. Mathers won by 49 votes in the primary. He received 1,197 votes, or 51.04 percent, while Frank Moe received 1,148 votes, or 48.96 percent.
Commissioners moving forward with November ballot measure
The Moffat County Commission took another step Tuesday toward solidifying the future of medical marijuana dispensaries in the county. At its regular meeting, the commission approved, 2-0, a resolution containing a ballot question for the November election. As of now, the measure will appear before voters. However, the commission has until Oct. 6 to withdraw the question, if it chooses.