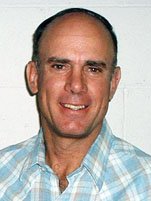 Tom Gray
Stories this photo appears in:
On Monday the Moffat County Commission is hosting a short meeting to address two business items that can't wait until after the New Year. The commissioners are scheduled to reconvene Wednesday for a more typical meeting. For two current commissioners it will be their last meeting as an elected county official. Last week Commissioners Audrey Danner and Tom Gray spoke with the Craig Daily Press about their goals coming into office, the state of the county, and how they were influenced by past commissioners.
To the editor: I lit a fire when a fire ban was on. No excuses or justifications, I was wrong. The article did an accurate job of describing the facts at the time. Beyond that, actions speak louder than words, and my actions send the message that I believe I am somehow above the rules.
Authorities were called to report of smoke July 5 at Tom Gray's residence
A contrite Tom Gray delivered a letter to the Craig Daily Press today addressing a July 5 incident at his home on North Colorado Highway 13, in which he was found burning trash while a burn ban he signed was in effect. "No excuses or justifications, I was wrong," the Moffat County Commissioner wrote in the letter. Gray's letter to the community and the story regarding the incident can be found here.
The Moffat County Commission appointed Wednesday several community residents to an assortment of county boards. But, before the commission announced the appointments, it first designated a chairperson for 2012. Unlike other counties where the chairperson is elected or the commissioner with the most seniority is appointed, it has been a tradition in Moffat County to rotate the position each year by district. This year, Tom Gray, county representative from District 1, will oversee the commission.
All five of Moffat County's major government funds experienced growth in 2010, according to findings of an independent audit conducted by McMahon and Associates, LLC, an Avon-based firm. Moffat County increased its net income by $5.2 million, according to the audit.
Moffat County Commissioner Tom Gray said the trip he will take starting Friday is part of the county's goal to be more proactive on the state and federal levels. "It kind of fits under that banner of an ounce of prevention is better than a pound of cure," he said. "Once things are active and once things start down a road, it is a lot harder to get things stopped than it is just to keep them from getting started." Gray will travel to Washington, D.C., as part of a trip organized by Colorado Counties, Inc., to represent and discuss issues agreed upon by the organization's members with federal lawmakers.
Mathers: Hickenlooper supports Colorado clean coal tech
Moffat County Commissioner Tom Mathers said he was pleasantly surprised by a Wednesday meeting with Gov. John Hickenlooper in Denver. "It was so much different than that other guy, Ritter," he said while driving back from the meeting. "He is very personable and very attentive. When you talk to him, you know he is listening to you."
Commissioners moving forward with November ballot measure
The Moffat County Commission took another step Tuesday toward solidifying the future of medical marijuana dispensaries in the county. At its regular meeting, the commission approved, 2-0, a resolution containing a ballot question for the November election. As of now, the measure will appear before voters. However, the commission has until Oct. 6 to withdraw the question, if it chooses.