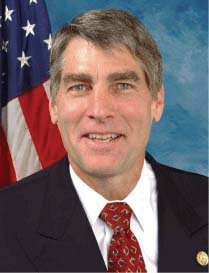 U.S. Sen. Mark Udall
Stories this photo appears in:
One of Colorado's most contested elections could swing the U.S. Congress majority balance and was dubbed a "race to watch" by The Washington Post.
October 29, 2014 midnight
More than $500,000 of Moffat County's budget still is up in the air at the federal level. The money is tied to Payment in Lieu of Taxes funding that is playing a central role in debates in the U.S. Congress. PILT funds are given to counties that have public land they cannot tax. While the funds can be used in many ways, they usually help communities such as Moffat County cover costs of infrastructure.

Udall calls for livestock insurance program in 2013 Farm Bill
This week, U.S. Sen. Mark Udall, D-Colo., urged the Senate Agriculture, Nutrition and Forestry Committee to include a permanent livestock insurance program in the 2013 Farm Bill. In a letter to committee Chairwoman Sen. Debbie Stabenow, D- Mich., Udall said ranchers need a safety net considering ongoing drought conditions across much of the Rocky Mountain west.