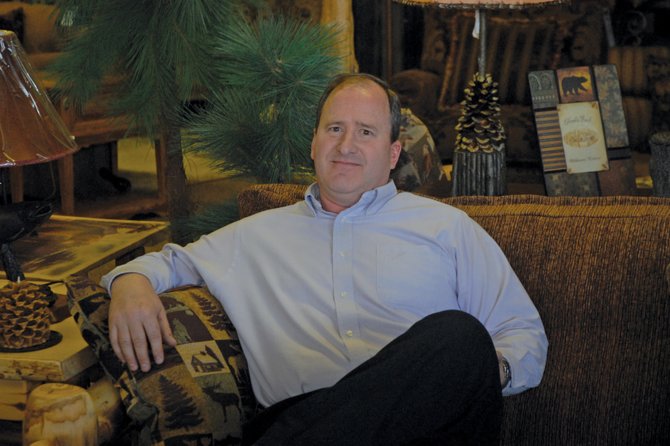 Manager Rodney Klimper kicks back on one of the many sofas available at Furniture Gallery of Craig, 385 Ranney St. Klimper has worked at the furniture outlet for four years. He also spends much of his time working with the Bad Dogs Youth Wrestling program.
Stories this photo appears in:

"I've been working at Furniture Gallery for four years. I do just about everything: books, ordering, delivering, sales. I fell into it, I just went to work for the owner and as the business expanded and changed direction, it's where I ended up. Before that, I kind of bounced around, I did some landscaping, different seasonal jobs in Steamboat, some retail. "I like dealing with the people who want to improve what they have, whether they're looking to get something more value-priced or real fine furniture. We do deliveries all over the region, so we get to deal with all that — houses, people's different decors. We deal with 120 different companies, we get stuff from all over. We try to run the gamut as far as price, quality, selection. You see furniture stores that have a lot of real high-end stuff, like most Steamboat stores have. We try to give everybody a choice so that they know what they're doing.