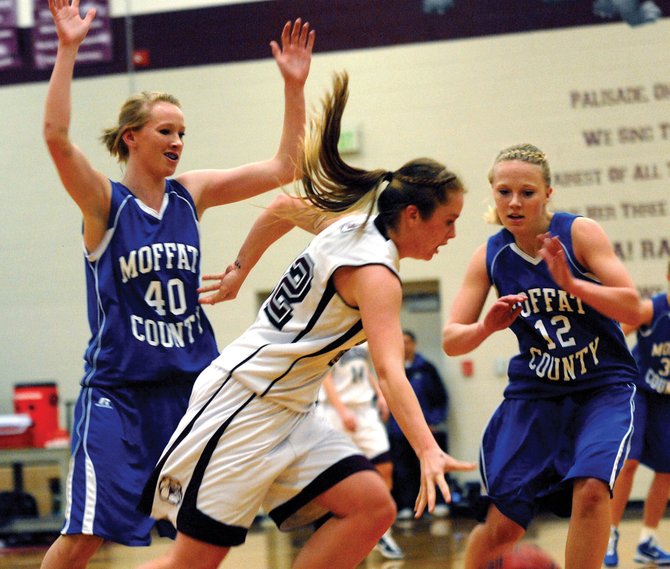 Moffat County High School's Britteny Ivers, left, and Sassy Murray double team a Palisade player in the second half of the Bulldogs' 53-41 win Saturday. Full-court pressure was instrumental for MCHS in securing the victory.
Stories this photo appears in:

21-6 first quarter key for win against WSL foe
PALISADE – One advantage of having a three-day tournament is that by the third game, a coach has had a chance to scout the upcoming opponent twice in a matter of 48 hours. Matt Ray, Moffat County High School girls basketball coach, had a pretty good idea of what his team could do against Saturday's opponent, Palisade. "Cortez and Rifle pressed them and it worked well," Ray said. "I felt pretty good about our chances if we did the same." The Bulldogs defense made it hard on Palisade to get past half court in the first quarter, and at one point MCHS led 21-4. The quarter ended with the Bulldogs in blue leading the Bulldogs in maroon, 21-6. The rest of the game wasn't as lopsided, but MCHS finished with a 53-41 win.
December 20, 2010 midnight