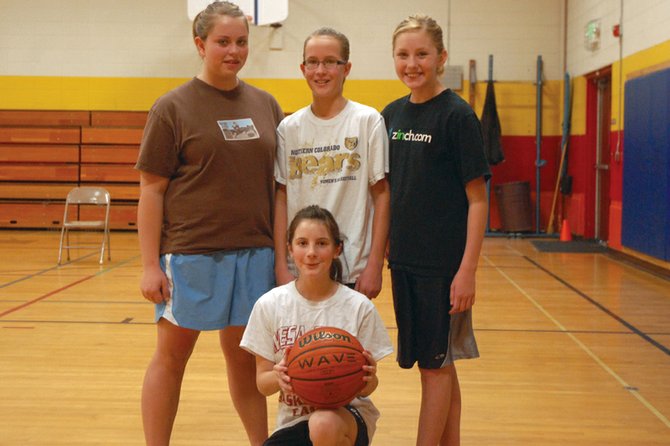 Competitors in the girls age 12 to 13 bracket of Saturday's Craig Elks Lodge No. 1577 Hoop Shoot contest are, back row, from left: Alexi Goodnow, Josey King, and Mattie Jo Duzik. Hannah Walker is shown kneeling with the ball. The four of them have played basketball together for several years and enjoy the friendly competition of the Hoop Shoot. On Saturday, King won first, Goodnow second, Walker third and Duzik fourth. King will compete at the district contest Jan. 22 at Sandrock Elementary School.
Stories this photo appears in:

Alexi Goodnow, Josey King, Hannah Walker and Mattie Jo Duzik have been playing basketball together in one venue or another for several years, including the annual Hoop Shoot contest hosted by Elks Lodge No. 1577. Even though this was the last year all four of them will compete together, Goodnow said the latest competition provided exactly what it's supposed to — a fun time. "It's always a good experience," she said.
December 15, 2010 2:09 p.m.