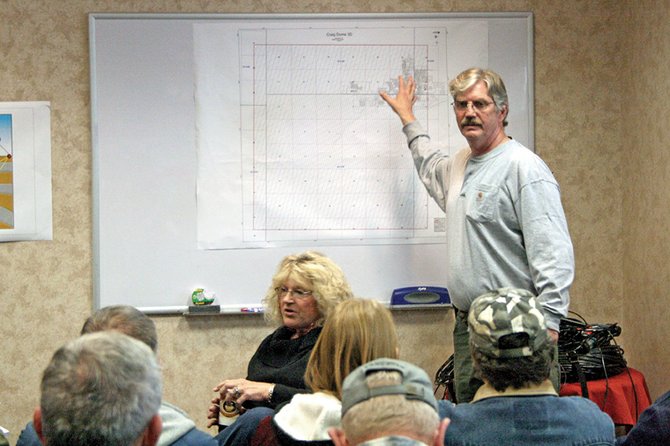 Brent Jacobsen, a project manager for Geokinetics, points to a property map of Craig during a question-and-answer session Saturday at the Holiday Inn of Craig. Geokinetics intends to perform a geologic survey of Craig and parts of Moffat County, and is seeking permission from residents to place seismic sensors on private land. The survey could identify pockets of oil and natural gas.
Stories this photo appears in:
As Leroy Lee exited a meeting Saturday in the conference room at the Holiday Inn of Craig, he shared a candid assessment with a small group of people assembled outside the door. "I survived," Lee said. "But, I need to go put a Band-Aid on my butt." Lee, a geophysical consultant for Gulfport Energy Corporation, was speaking of the question-and-answer session he and two representatives from Geokinetics, Inc., hosted. Geokinetics is a Texas-based company that conducts geological surveys via seismic sounding. In October, the company was commissioned by Oklahoma-based Gulfport Energy to provide a survey of the subsurface of Craig and parts of Moffat County.
December 6, 2010 midnight