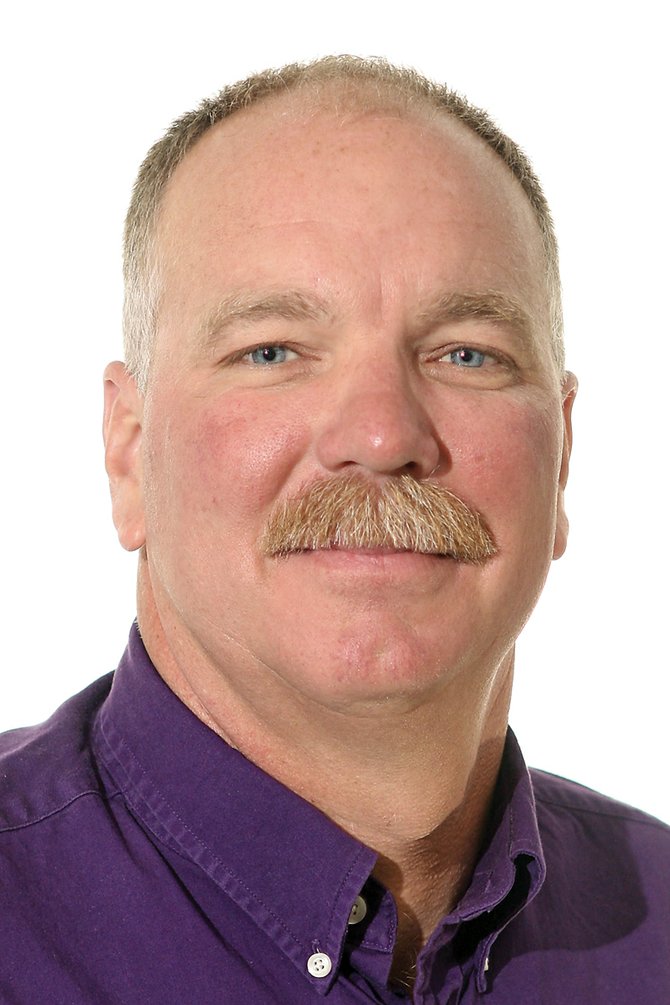 Tim Jantz
Stories this photo appears in:

Moffat County Sheriff Tim Jantz will not be running for Moffat County Commissioner in the November election. He posted an inquiry on his Facebook page earlier this month, asking people why they think he should run for commissioner. While he said he was "overwhelmed" by the show of support from his friends and the community, Jantz said he is opting out.
The law states that pedestrians are supposed to walk against traffic and bicyclists are supposed to ride with traffic, according to the Colorado Department of Transportation. Yet does this happen? Craig Police Chief Walt Vanatta said that he'll often see kids that are walking on the wrong side of the road or are riding their bikes through stop signs, paying no attention to the law and ultimately putting themselves and others in danger.
At issue are two laws passed this spring that are set to take effect July 1, limiting the size of ammunition magazines to 15 rounds and expanding background checks to private and online firearm sales.
Moffat County Sheriff Tim Jantz is among county sheriffs throughout the state who are participating in a lawsuit against Colorado's new gun-control laws.

Wiggins and Jantz maintain the legislation passed by Colorado's House and Senate won't keep guns out of the hands of criminals and instead will punish law-abiding citizens. Both sheriffs said Tuesday that gun control has been the No. 1 concern of their constituents in recent months, and that every email, phone call and comment they have heard is from residents who oppose gun control legislation.
When considering the issue of gun control, Moffat County Sheriff Tim Jantz said he recalls an incident in 1961 in Wisconsin, when three men gunned down a law enforcement officer during a traffic stop. The officer was his father, and all three men involved were paroled for their crime.
For Moffat County Clerk and Recorder Elaine Sullivan, Tuesday will be one she won't soon forget. And even though she has done it twice before, she doesn't think the day's activities will be any less moving. Sullivan will join seven other elected officials at 1 p.m. Tuesday in Moffat County District Court to be sworn into their respective elected offices. The ceremony will be a completely new experience for some, and for others it will be one they have had the honor of participating in several times before.
While some Moffat County Republican candidates had a nail-biting night Tuesday during the primary election, it was smooth sailing into November's general election for three uncontested candidates. Current Moffat County Sheriff Tim Jantz, county clerk and recorder candidate Lila Herod and county surveyor candidate Peter Epp each notched more than 2,000 votes as they were the sole GOP contenders for their respective positions. They move on to the general election, and possibly into public office in January 2011. As of now, there are no Democratic or write-in challengers for the any county positions, save for Tami Barnes for Moffat County Commission, District 2.
A Moffat County coroner candidate stressed fiscal responsibility in his speech Tuesday night to an estimated 150 people attending the Craig Daily Press/KRAI candidate forum. Kirk McKey, one of two candidates vying for the job currently held by the term-limited Owen Grant, told the audience at Centennial Mall that he would run the coroner's office as responsibly as his business, McKey Chiropractic Clinic.