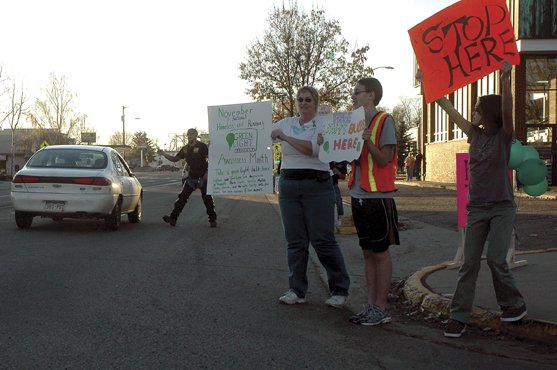 Randa Reed, 11, right, and her brother, Zach, 15, wave signs with their stepmother, Paula, outside the kick off event for National Runaway Prevention Month on Monday at the Moffat County Courthouse. Paula, who is the coordinator for the Moffat County Youth Leadership Team, helped organize the event. Behind, volunteer J.D. Merriam hands a green light bulb to a passing motorist. Organizers hope residents put the green lights up at their homes and businesses to raise awareness about homeless youth.
Stories this photo appears in:

A crowd of about 30 gathered in front of the Moffat County Courthouse to celebrate the kick off to National Runaway Youth Prevention Month in Moffat County.