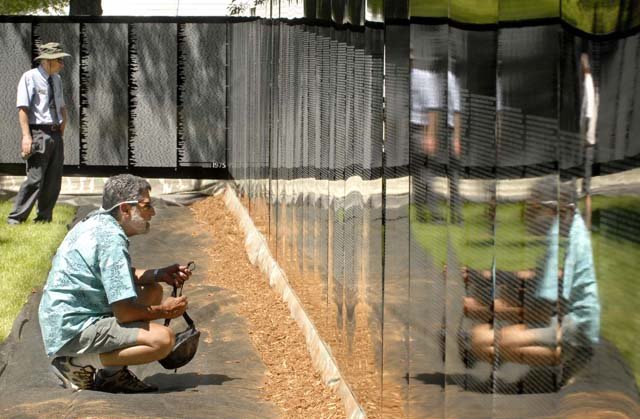 Visitors examine the Moving Wall during its recent visit to Missoula, Mont. The Moving Wall, a replica of the Vietnam Veterans Memorial in Washington, D.C., will be on display from Thursday through Aug. 13 at Loudy-Simpson Park. Veterans say the wall's display will pay homage to all those who lost their lives in the conflict.

Stories this photo appears in:

Rohrich, otros residentes locales ayudan a traer la "Moving Wall" para recordar a los excombatientes
¿Que?: una replica en miniatura de monumento conmemorativo de los excombatientes de Vietnam.

Rohrich, other locals help bring Moving Wall to remember veterans, show city
After serving 22 years in the U.S. Air Force - including time spent in Ankara, Turkey, during the conflict in nearby Beirut, Lebanon - The Memorial Hospital CEO George Rohrich is still unsure of what exactly the Vietnam Veterans Memorial means to him, or anybody.