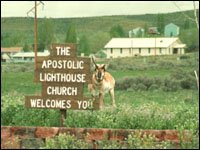 Members of the Apostolic Lighthouse Church make it clear that
anyone is welcome, and this antelope took them at their word. He
was found standing outside the church Wednesday afternoon, grazing
his way past the front of the church.

Stories this photo appears in:
Despite speculation that it may be closed forever, local travelers can rest easy because an old, familiar landmark will be opening back up for another year of service.