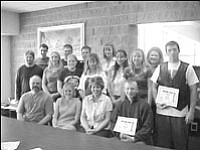 Memorial awards given Wayne, Diane, and Shawn Cookston presented 15
memorial scholarships to students in the Moffat County High School
senior class. These awards were given in memory of Chad Wayne
Cookston who was a member of the Class of 2001. Pictured in the
bottom row from left are Wayne Cookston, Shawn Cookston, Diane
Cookston, and Dylan Schopper; middle row from left are Nathan
Browning, Melissa Nicoletto, Kristy Behrens, Nichole Barney, Nicole
Shatz, Amanda Overton, and Ben Koucherik; back row from left are
Chris Bergmann, C.J Rugh, Jorin Rudd, Jill Hawks, Leigh Ann Toovey.
Jeremy Thuney and Jenney Corman are not pictured.

Stories this photo appears in:
School officials proud of accomplishments
Each month, department heads submit reasons they are proud to the Moffat County High School Board of Education, which recognizes staff and students for their accomplishments.