Obituary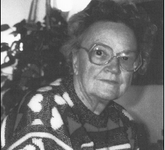 Frances Aldrich passed away on August 31, 2013 at home at the age of 90 years old, in Craig, Colorado. She was born in Youngstown, Ohio in the year 1923 the youngest of seven children to Jacob and Anna Pastula. ...
Ruth Laverne Mogenson Sheridan was born April 16, 1936, in Fruita to Margaret Ruth Wilkerson and Marinas Laverne Mogenson. Ruth passed away August 12, 2013. Throughout her life, Ruth was an airline stewardess, model and secretary to Colorado Senator Haskell. ...
Earl was born Nov. 10 1958 in Canon City, CO. He married Keri Roberts in 1982, had three children: Clint, Katie and Mindi. He later married Ann Root in 2011. Earl died on September 3, 2013. Memorial Sept. 14 at ...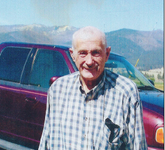 Donald Dean Taylor Son of Harold Taylor and La Vaughn Taylor was born April 9th 1935 in Craig Colorado and passed away on Sept 14th 2013 at Hospice in Grand Junction Colorado. He was one of 5 children born. Brothers ...
Craig
Robert Kostur Sr., of Craig, died Thursday, Sept. 26, 2013. A graveside service will be held at 1 p.m. Saturday, Oct. 5, 2013, at the Craig Cemetery.
Hayden
William Conley, of Hayden, father of Chris Anthony, of Craig, died Wednesday, Sept. 25, 2013, at The Memorial Hospital. Memorial services will be held at 2 p.m. Tuesday at St. Michael Catholic Church.
Death Notice
Virginia Miller, died Saturday at her home. The Rosary will be recited at 6 p.m. today at Saint Michael Catholic Church. A funeral service will be at 2 p.m. Thursday at the Church. Memorial donations may be made to the ...
George L. Miller, a former Craig resident, passed away Saturday, Aug. 24, in North Pole, Alaska. Memorial services will be in North Pole on Friday, and later in October in Craig.
Veronica Ryan, of Craig, died Saturday, Aug. 31, 2013, at her home. At Veronica's request, no ser­vices will be held.
Nick H. Mahleres, 88, of Grand Junction, died Sunday, Sept. 1, 2013, at his residence. A funeral ser­vice will be held at 11 a.m. today at St. Nicholas Greek Orthodox Church. Interment is in Veterans Memorial Cemetery is at 1 ...
Memorial services for Cecil Brewer will be held at 2 p.m. Monday at the Maybell Community Church.
Craig
Corey M. Pape, of Craig, died Sunday in East Carbon, Utah. Services are pending
Savery, Wyo.
Colton Morgan, of Savery, WY died Saturday in Grand Junction. Memorial services will be held at 1:00 p.m. Thursday at the Baggs Community Center. Memorial donations may be made to an Educational Fund for his brother Briley Dietrich in care ...