Obituaries
Craig
Leslie Hutton, a longtime Craig resident, died Friday, May 10, 2013, at the Sandrock Ridge Care Center. A memorial service is at 11 a.m. Friday, May 17, 2013, at the Journey at First Baptist Church.
Craig
Doris Elaine (Darland) Donner Brockmann, of Craig, died April 1, 2013, at Sandrock Ridge Care and Rehab Center. Doris was born Dec. 14, 1920, in Randolph, Iowa, to Lester Darland and Gladys May (Niday) Darland. She was the second of ...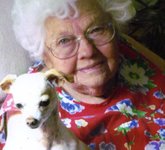 Ruth M. (Dunkel) Smith was born Sept. 16, 1918, in Deep Water, Mo., to Anna L. Dunkel (McKee) and Elvie L. Dunkel. When she was just a young child, the family moved to Lakin, Kan. She attended a country school ...