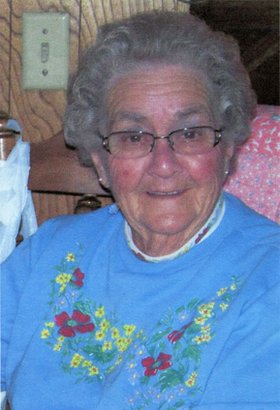 Delia Inez Seamen was born Jan. 3, 1928, in White Deer, Penn.
She married Charles "Ike" Eisenhauer on June 17, 1946, in Harrisburg, Penn., becoming Delia Inez Eisenhauer. They renewed their vows on June 17, 2000, in Mesa, Ariz. Ike left this world August 6, 2004.
Delia and Ike moved to Colorado in 1959. Ike started his business, Ikes's Transmission Shop, with the help of his wife Delia. They eventually built a house for their family and settled in the Yampa Valley.
Delia helped Ike start stock car racing in the Yampa Valley, which is still happening today. Delia was known for her famous sloppy joes at the concession stand during the races.
They also were part of a group of CB goers called the "Shack Yackers" back when CBs were the new cell phones. Her handle was "Blue Lady" and Ike's was "Brute."
Delia helped with Fundraisers the Shack Yackers would put on to help raise money for the handicap. She was seen in the newspaper many times handing checks over to the foundations.
Delia worked at The Memorial Hospital as a nurse's aide taking care of many people in the community and the many babies brought into this world.
She also worked at Bill's Super Market to help support her family. Delia moved on to Hesteads Department Store.
Delia eventually became part of the Chamber of Commerce family in Craig. She worked there for 15 years.
All out of state hunters knew who she was. She knew the Yampa Valley area like the back of her hand and could tell hunters where to go to find good game. Hunters would come back to Craig just to talk to Delia. She had an infectious personality that everybody loved.
Eventually Delia moved to the Museum of Craig and helped the tourists and museum staff with the history of our great county. She contributed her knowledge to the museum to help preserve our history in the great West.
Delia was a Wal-Mart Associate for 2 years and spent the last three years as a Greyhound bus agent.
Delia and Ike were well known throughout several counties and had a great many friends. Everybody in Craig always knew who was riding the motorcycle with a sidecar on it when they came through town.
Delia loved riding motorcycles with her husband. They traveled all over the states with the wind in their hair looking for new adventures wherever they went.
Delia is survived by her sister, Georgia Hill, of Allenwood, Penn.; and her children: Robert Meckley, of Craig, Charles Eisenhauer, of Murry, Utah, Joyce Clements, of Craig, Mary Jo Checketts, of Craig, Sharon Guilford, of Lakeland, Fla., Delia Cass, of Bakersfield, Calif., and Elwood Eisenhauer, of Craig. She has 20 grandchildren, 21 great-grandchildren, and three great-great-grandchildren.
Delia was laid to rest Sept. 2, 2012, beside her eternal love, Ike, and their pet Dachshund, Snitz, by their cabin at Freeman Reservoir.
Go rest high on the mountain Momma, forever in our hearts, the Clements Family, Guilford Family and Charles Eisenhauer Family
A private service was held at the Clements home in Craig with her closest family. Balloons were released in loving memory to "I'll Fly Away."
(Below is a poem to Delia from some of her grandchildren and great-grandchildren.)
Our Grandma
Best friend, confidant, wiper of tears, shoulder to cry on, a sweet treat to soothe the soul.
Grandma hugs, Loving, kind, wonderful, sweet, soft, smells like roses.
Excellent cook, hard worker, strong, tough, speaks the truth even if it hurts.
Mother, Grandmother, Great Grandmother, Great-Great Grandmother.
Gives advice full of wisdom, needs a shoulder to cry on, soft, strong, stubborn.
Worried, crying, not ready, wants more time, has more to do in life, isn't sure, at peace.
Hopes everybody is taken care of, hopes life treats us well, hopes there will be peace, hopes no fighting among her family, hopes the best and loves us all.
Our Grandma is Delia Eisenhauer, the best Grandma we have ever had. We love her with all our hearts and will miss her with all our hearts.
We love you Grandma and will never forget you.
We Love you,
Grandchildren - Nora, Carman, Roxane, Krissy and Mike
Great-Grandchildren – Loagan, Austin Miranda, Mackenzie and Marek